What is Macaronage? (Secret Macaron Batter Folding Technique)
Macarons are difficult to make and there are a lot of things that can go wrong. One of the most common reasons your macarons are not turning out perfectly is the wrong macaronage.
Macaronage meaning
Macaronage is a macaron batter mixing technique – meaning mixing the meringue and dry ingredients to a pipable macaron batter a certain way. When the macaronage step is done right then there is a huge chance that your macarons turn out perfect and have beautiful feet, fluffy texture, and nice shiny shells.
As an Amazon Associate, I may earn from qualifying purchases.
How many times should you fold the macaron batter?
It depends on how strong the meringue is, how humid is the weather, how much food coloring are you using, how fast you are folding, etc. There is no correct answer on how many times you should fold your macaron batter.
The number of folds can be different every time you are making macarons. I would not trust a recipe that says the exact number of how many folds you should make.
How long does it take to get the right macaronage texture?
It takes a few minutes to get the right macaronage texture. There is no strict answer on how long it takes because it depends on multiple reasons – how much batter you have, how fast you are folding, how much food coloring is used, etc.
I recommend you to not set the timer or check the clock while folding the macaron batter. Focus on the technique and do not hurry.
Is it possible to make macaronage with a mixer?
Yes, it is possible to make macaronage using a mixer. However, there are several "buts". Clearly, there are a lot of different mixers out there – some of them are slower, some of them faster, etc.
All the mixers won't work for macarons because they tend to be too fast even at their lowest speed. Mixing the macaron batter with a mixer can quickly ruin your macaron batter as it gets too runny very quickly.
There is nothing to do with the macaron batter once it has happened. I highly recommend using a classic silicone spatula for macaronage as it is a lot safer than using a mixer.
If you still want to save some time and try out the mixer, I recommend using one of the KitchenAid Mixer accessories – KFE5T Tilt-Head Flex Edge Beater. It has a silicone spatula-like edge which is best for macaron batter.
As an Amazon Associate, I earn from qualifying purchases.
How to know when the macaron batter is ready?
Folding the macaron batter together is one of the most important steps in the macaron-making process. If the batter is under-mixed, there is a chance that your macarons will turn out lumpy, uneven, and hollow inside.
If the batter is overmixed, your macarons will probably turn out flat, without foot or cracked. I am sure you do not want any of this to happen. That is why you should always be sure before the batter is ready before you will start piping it out to the parchment paper or silicone mat.
There are a few foolproof ways to control if the batter is ready for piping:
Ribbon test
Doing a ribbon test is one of the best ways to check if your macaron batter is ready for piping. Take a scoop of the batter with a spatula and let the batter flow back into the bowl. It should look like a wide ribbon.
Below you can see an example, of how to fold the batter properly. The GIF is making it a lot faster than it actually should be. Remember – the slower you fold it, the better your macarons are turning out!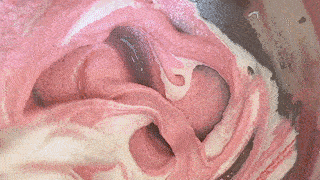 The number 8 test
Once you have tried the ribbon test and think your macaron batter is ready for piping, I recommend testing it one more time. Take a scoop of the batter with a silicone spatula the same way you did before.
This time try to write the number 8 without the batter breaking. If you succeed in doing that test either then I am sure your batter is ready for piping.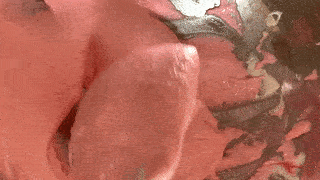 Do a test pipe
In case you are still not 100% sure if the batter is ready or not, there is one more way to test it out. Do a test pipe. Take a spoon and place a little bit of the batter on the baking sheet. The batter should evenly flatten down without having the point on it. It should take up to one minute.
Once you succeed in taking these tests, stop mixing immediately to avoid your batter getting too runny. There is nothing to do with overmixed batter to make it thicker so be very careful.
Once your macaron batter will flow, as shown above, it is done and ready for piping! Place the macaron batter into the piping bag and start piping immediately. The batter will lose its texture pretty fast in the piping bag – it gets thicker and you can end up with cracked, lumpy, and uneven macarons.
Do not let the batter stay in the piping bag longer than 30 minutes. It is totally fine if it sits on the baking sheet a lot longer than 30 minutes when piped out, but not in the piping bag.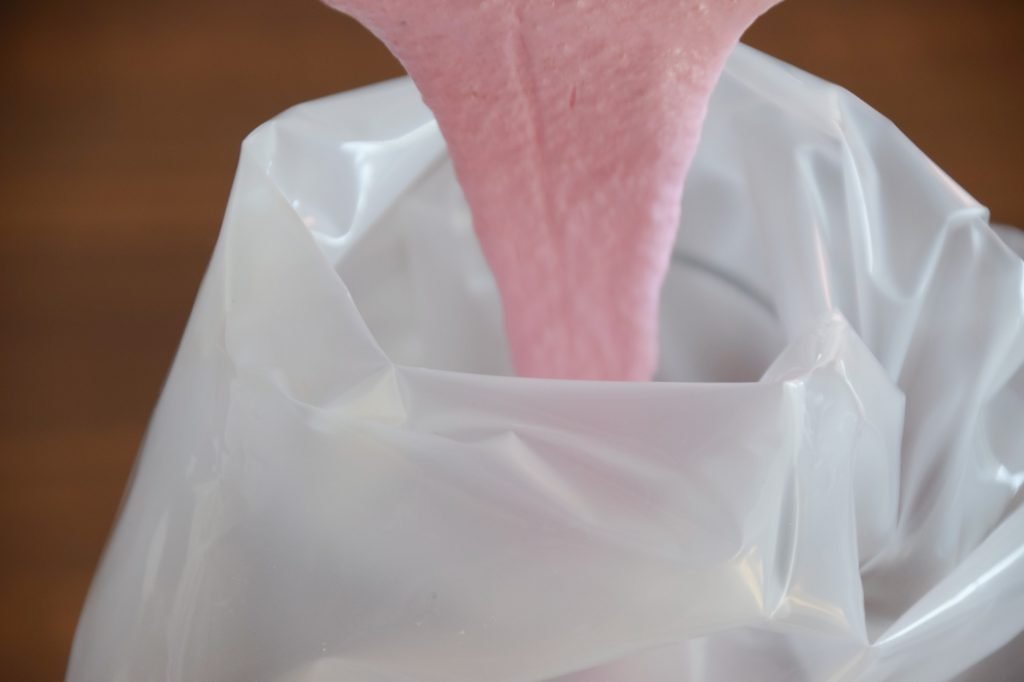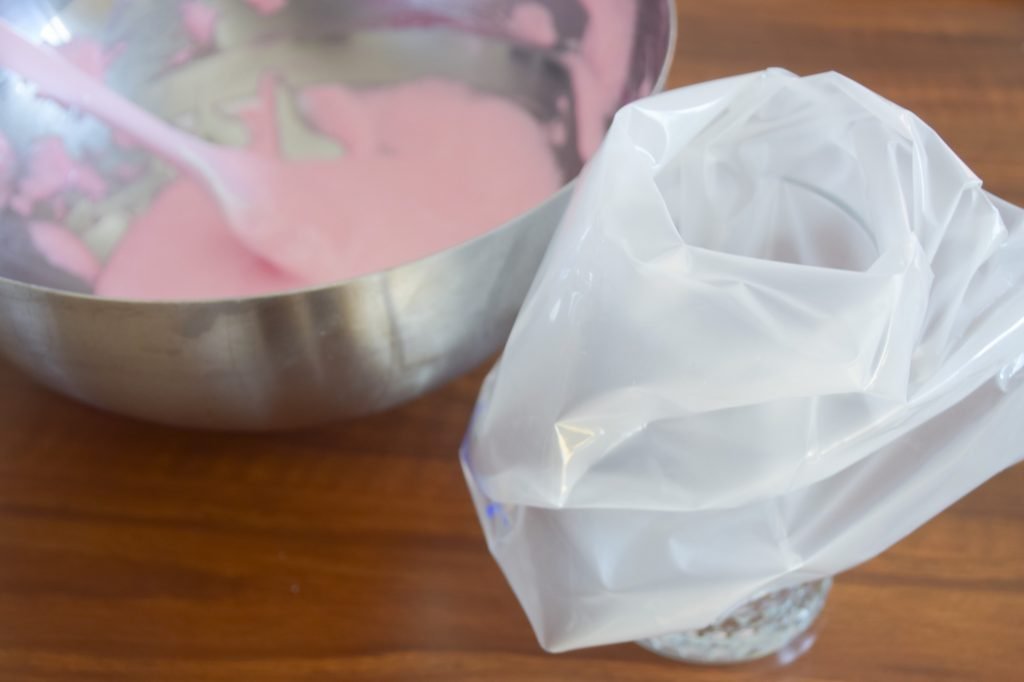 Steps to succeed in the macaronage process
Follow the recipe and always weigh all the ingredients extremely correctly
Make sure all the bowls, whisks, and spatulas are dry and clean
Always sift the almond flour and powdered sugar
Make sure your meringue is strong and shiny
Fold the batter slowly. It is very easy to overmix
Do not hurry. You need to be very calm and gentle at this point
Do not use liquid food coloring. It can ruin the batter. Use gel or powder food coloring instead
Make sure you scrape the surface and around the bowl to reach the whole batter
Stop folding when the macaronage gets the right texture
I really hope this blog post helped you understand the importance of macaronage. Macarons are not easy to make and sometimes it takes a lot of time and failed attempts to get them perfect.
If the macaronage part is done well, the chance your macarons turn out perfect is very high. If it did not work out today, make sure you try again – do not give up!
Enjoy your macarons!
Belli xx