Thanksgiving Macarons and Free Templates
Thanksgiving is not all about food, turkeys, and pumpkins… But these things are a big part of that holiday, right?
It's the week of Thanksgiving and I'm so excited! Who doesn't love that holiday? You know how much I love macarons, and I love them, even more, when they have a festive look!
Macarons allow you to be very creative, and they're an excellent way to show your holiday spirit. Today I want to share some Thanksgiving-themed macarons from our kitchen – especially my favorite, the turkey ones!
I will also share free templates for these cute turkeys so they will be easier for you to make!
Making the batter for Thanksgiving macarons
Making these cute turkey macarons is a little more difficult than making the basic round-shaped macarons. But only a little more challenging!
If you know how to make basic macarons, there should be no problem with making different-shaped macarons as well.
The base is the same as always – I am using my Perfect Homemade Macarons (Italian Method) recipe like I always do. Make sure to follow all the steps correctly when you are using this recipe. You can always use your own recipe as well if you have a good and working one!
You need 4 colors to make the cute turkey-themed macarons: brown, orange, yellow, and red.
All the colors I was using for these turkey macarons are Americolor Gel Food Colorings. I like that they came in squeezable bottles and are very easy and mess-free to use.
I actually didn't have any brown color left when I started baking. I realized that when the macaron batter was already in the making so I was kind of nervous about what to do next. Then I remembered that it is very easy to make brown color by mixing together orange and blue gel food coloring!
I had heard of it but never tried it before so it was very interesting to see if that works. And it did! I think I got the perfect brown color for turkey macarons. What do you think? Have you tried mixing blue and orange together to get brown color?
Using the Thanksgiving turkey templates
Once the batters are ready in piping bags, it is time to grab your template and start piping!
FREE TEMPLATE: You can download the turkey PDF template here and print it out.
I recommend starting with brown color – pipe the turkey's body and head first. Let them dry a little – it helps to get a beautiful texture. If you pipe everything at once without drying, the batter will flow together and can ruin the macarons.
Once the head and body have been sitting for about 10 minutes, take the red color and pipe one part of the feathers.
Again, let them sit for about 10 minutes until you see the batter start turning matte-looking. Take the yellow and pipe the other part of the feathers.
Let them dry again, and now using an orange color, pipe the legs, the remaining feathers, and the little beaks.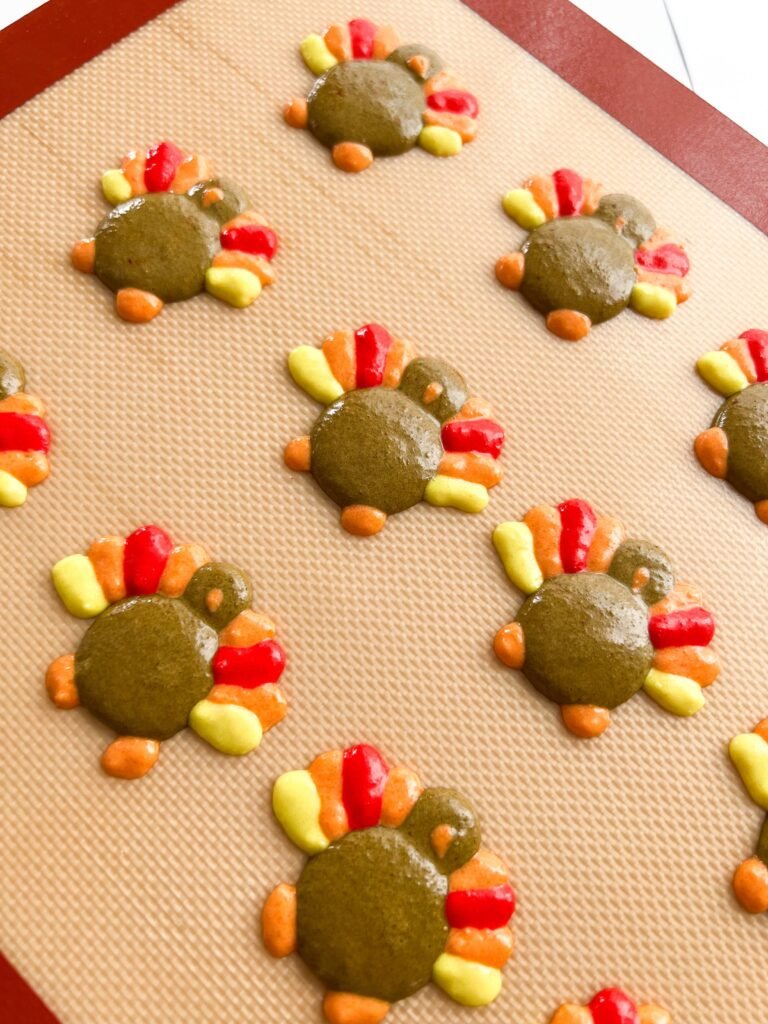 FREE TEMPLATES: You can download the pumpkin and turkey template here for free.
Baking the turkey macarons
Turn on the oven and let the turkeys stay on the counter for another 10 minutes before baking them.
The turkeys should look matte and you should be able to gently touch them with your finger without the batter sticking to your finger. If the batter is not sticking, the turkeys are ready for baking!
Bake them like said in my recipe above, or like the recipe you follow says.
After baking the turkeys, remove them from the baking rack and let them cool on the counter. Do not remove them from the silicone mat/parchment paper before they are completely cooled down.
Filling the turkey macarons
Once the macarons are cooled and peeled off from the silicone mat, it is time to fill them with your favorite filling. I am using white chocolate ganache this time!
Draw the little eyes to the turkeys using Edible Black Pen, place the filling between the shells, and sandwich the macarons together.
Now, these cute-looking turkey macarons are ready to be served. Feel free to add some decorations alongside your macarons to make the table look extra incredible and impress your guests.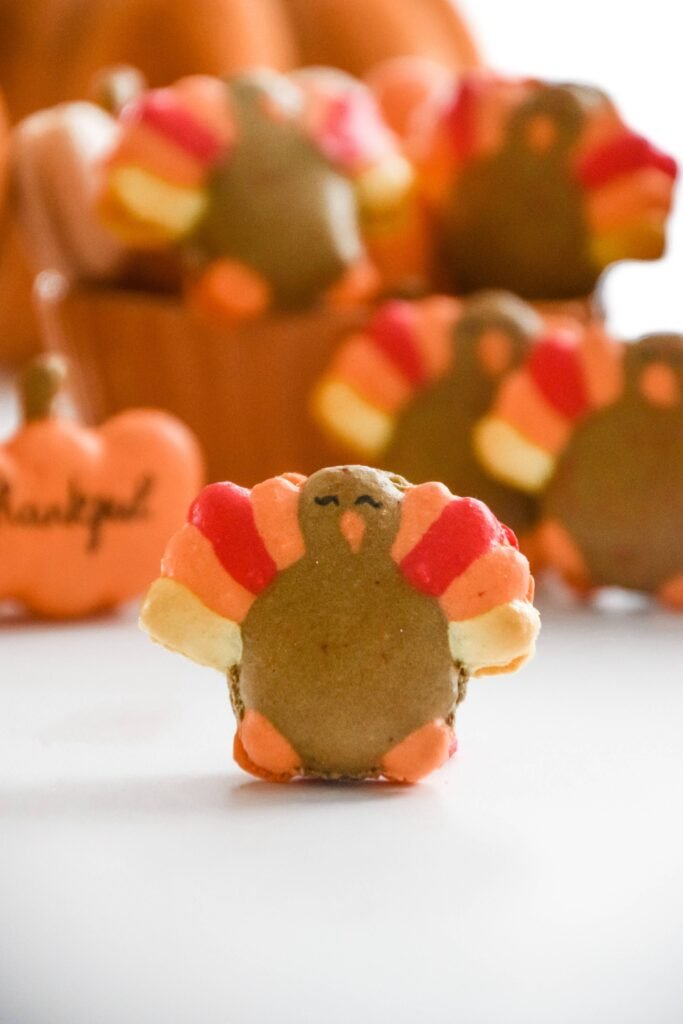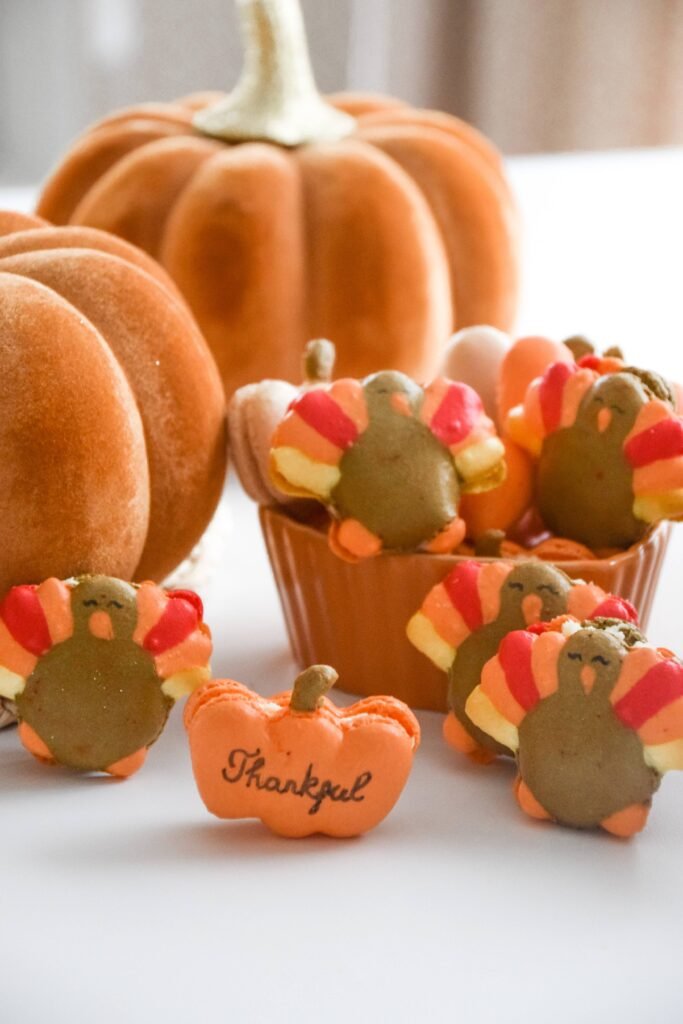 Cute Thanksgiving-themed Pumpkin Macarons
Another great fall-themed shape that came to my mind when I was thinking about Thanksgiving macarons, is obviously pumpkin!
FREE TEMPLATE: You can download the pumpkin PDF template here and print it out.
The pumpkin is like a symbol of fall. It also is very related to another fall holiday – Halloween! But in my opinion, pumpkin macarons (without scary faces on them) are perfect for Thanksgiving.
If you are piping the pumpkins, follow the same logic as you did with piping the turkeys. Pipe the pumpkin edges (or the middle parts) first and then let them dry before piping the remaining parts. By doing this, you can create a more appealing shape.
TIP: You can use whatever color you want for pumpkins. The most popular one for pumpkins is obviously orange color, but I also love the white ones. Another great idea – I mixed a little bit of purple gel food coloring into the white batter to get rid of the yellowish tone. Purple neutralizes yellow tones, keep that in mind!
Just look at these! So damn cute.
Using pumpkin macarons as seat cards
Fill the pumpkins with your favorite macaron filling. I used white chocolate ganache for these little pumpkins!
To make the pumpkins in festive Thanksgiving attire, it is a great idea to write "Happy Thanksgiving!" or "Thankful" on the macarons.
The other amazing idea is to use the pumpkins as name cards! Just imagine – a beautiful Thanksgiving celebration dinner table for your family, and all the seats are marked with these cute pumpkin macarons that all have a hand-written name on them. Your guests would absolutely love it!
How to store Thanksgiving-themed macarons
We all know that the holiday seasons are always a busy time for everyone. That's why it is a great idea to make your holiday-themed macarons beforehand!
You can keep your filled macarons in the freezer for up to a month! I have made a post about how to safely freeze the macarons here: How to Freeze Macarons and Macaron Fillings.
Just keep in mind that it is better to write to the macarons after freezing them. Otherwise, the ink can smudge after taking out from the freezer. Write to the macarons after the macarons are out of the freezer and have achieved room temperature.
I am personally very impressed with the outcome – these macarons are adorable! I can't believe they turned out so well and it makes me want to make one for every person in the world.
I hope you enjoyed reading this post as much as I enjoyed writing it, and creating the macarons. I wish that every single one of you could have one of these!
Happy Thanksgiving!
Belli xx