Shiny Sparkling Macarons with Edible Luster Dust
It is really easy to use edible luster dust to make your macarons look fancy, unique, and expensive. Those shiny, sparkling, and glittery macarons will take your typical colorful macarons to a whole new level.
It is a perfect addition to your winter-themed snowflake macarons, New Year's Eve party sweets, or even just when you are baking for someone special. It is guaranteed you will impress everyone who sees them.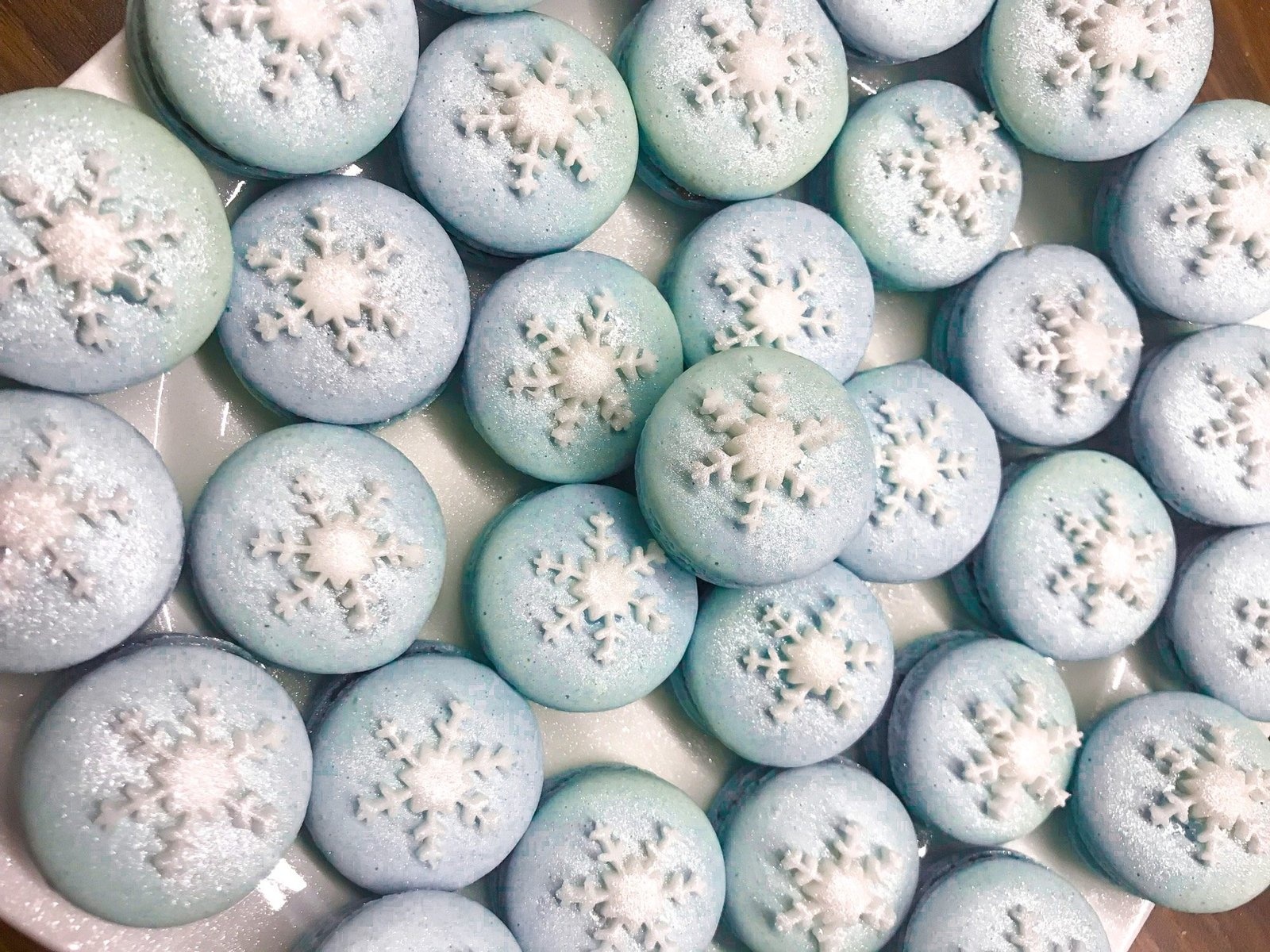 What is edible luster dust?
Edible luster dust is a shiny decorating powder used to decorate desserts to make them look fancy by applying sparkling visual effects to them. Edible luster dust is usually tasteless and is used mainly for its looks.
What is edible luster dust made of?
Edible luster dust is usually made from titanium dioxide, iron oxide, carmine, sugar, and mica. There are different types of luster dust, and not all of them are edible. Always make sure you are using edible food-grade and non-toxic luster dust. Keep your edible luster dust in a cool, dark place, away from sunlight.
How to apply edible luster dust to the macarons?
Adding sparkle to your macarons is actually super easy. All you need is an edible shimmer luster dust, a brush, and in some cases a tiny bit of water, lemon extract, or clear alcohol.
You can just gently brush the edible luster dust onto your macaron's shell with a dry brush. If you want to cover all of the shells with edible luster dust, it is best to use a Large Soft Brush.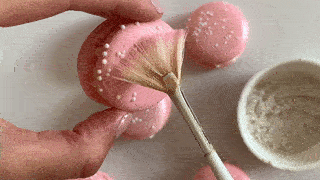 If you want to have a more intense color or to write something with edible luster dust, it is recommended to mix the edible luster dust with a tiny bit of water or clear alcohol.
It takes just a few drops of liquid to make a paste-like sparkling food color. In that case, it is better to use thinner brushes. I recommend using this brush kit as there are many different brushes for any need.
For a stronger effect, you can paint on multiple coats of edible luster dust. Be sure to let each layer dry before adding more. I love using this Pearly Luster Dust for light pink champagne macarons. It goes well with all the colors and gives a beautiful finish to your macaron shells.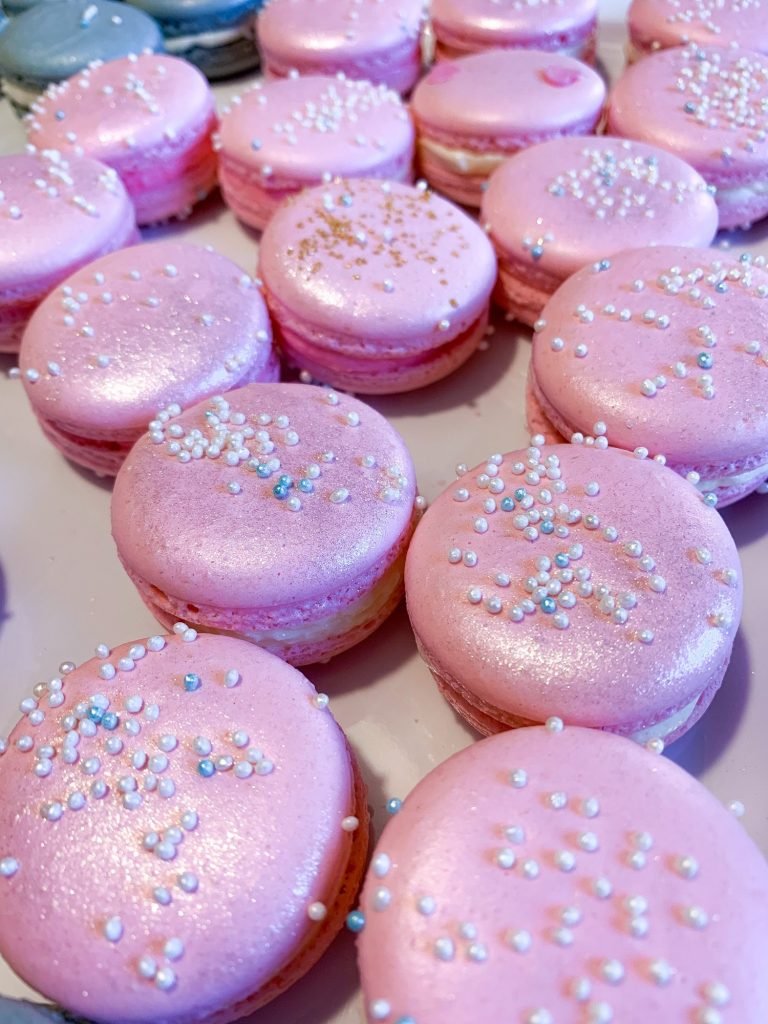 Also, I really love to use gold luster dust for some macarons. For example, Gold Glittery Luster Dust gives a beautiful luxury touch to your macarons. Just brush the edible gold dust over the macarons.
You can also splash edible gold dust over the macarons using your fingers and a brush. For this technique, you will need a few drops of water, lemon extract, or clear alcohol to mix with edible gold dust to get the wet gold paste.
Dip the brush into the paste and set it over the macarons. Gently pull the brush with your fingers and let the wet gold paste spray the macarons with gold drops.
Let the gold paste dry and set the macarons into the airtight container. Let them mature up to 24 hours before serving.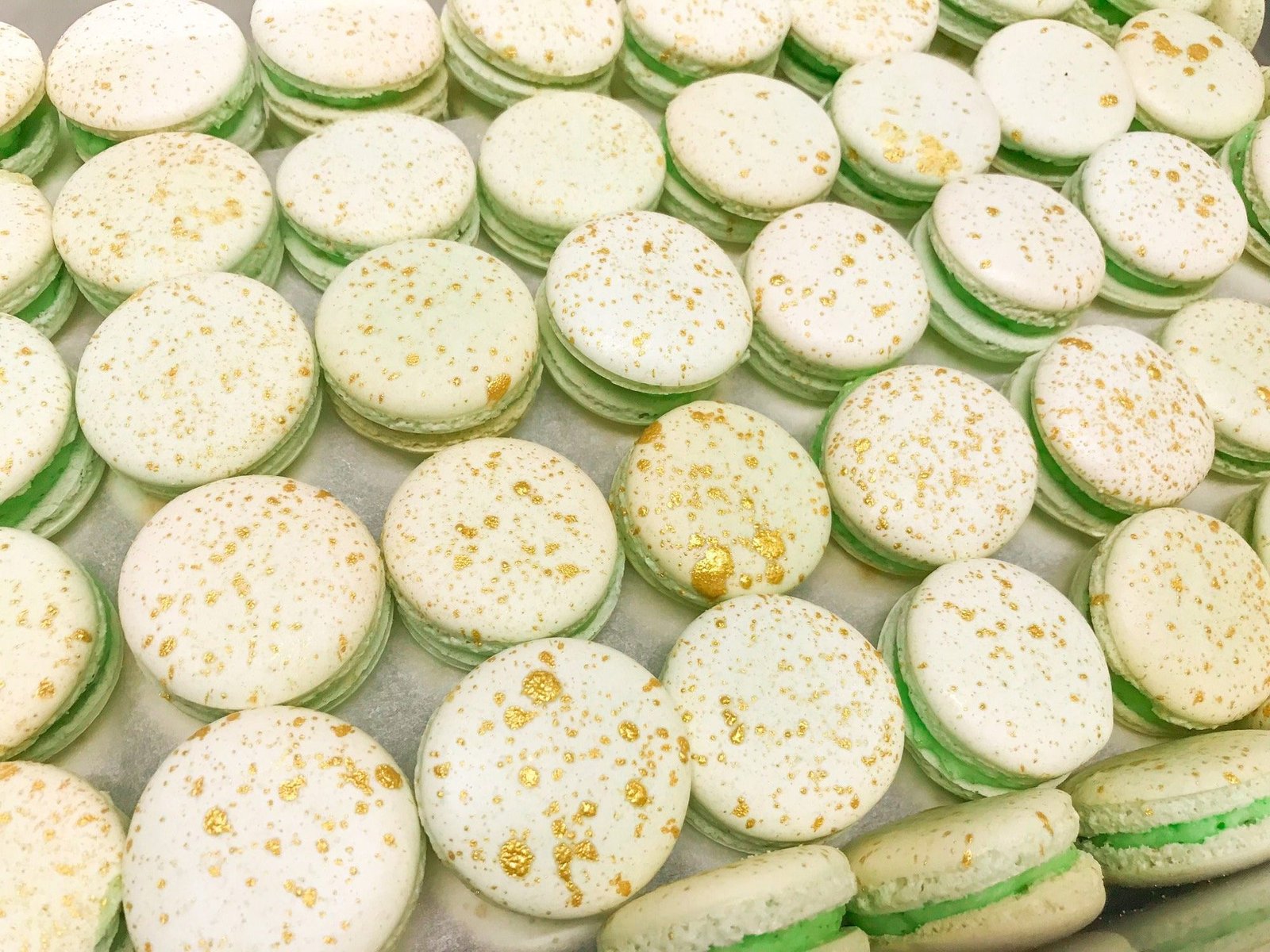 Enjoy your macarons!
Belli xx