Colorful Macaron Shells with Gel Food Coloring
Macarons are known for their cute and colorful appearance. These adorable little meringue-based cookies just attract your attention by how beautiful they look.
The best way to color your macaron shells is to use a high-quality and concentrated gel-based food coloring. The selection of colors is endless – you can have your macarons look pure white to dark black and anything between.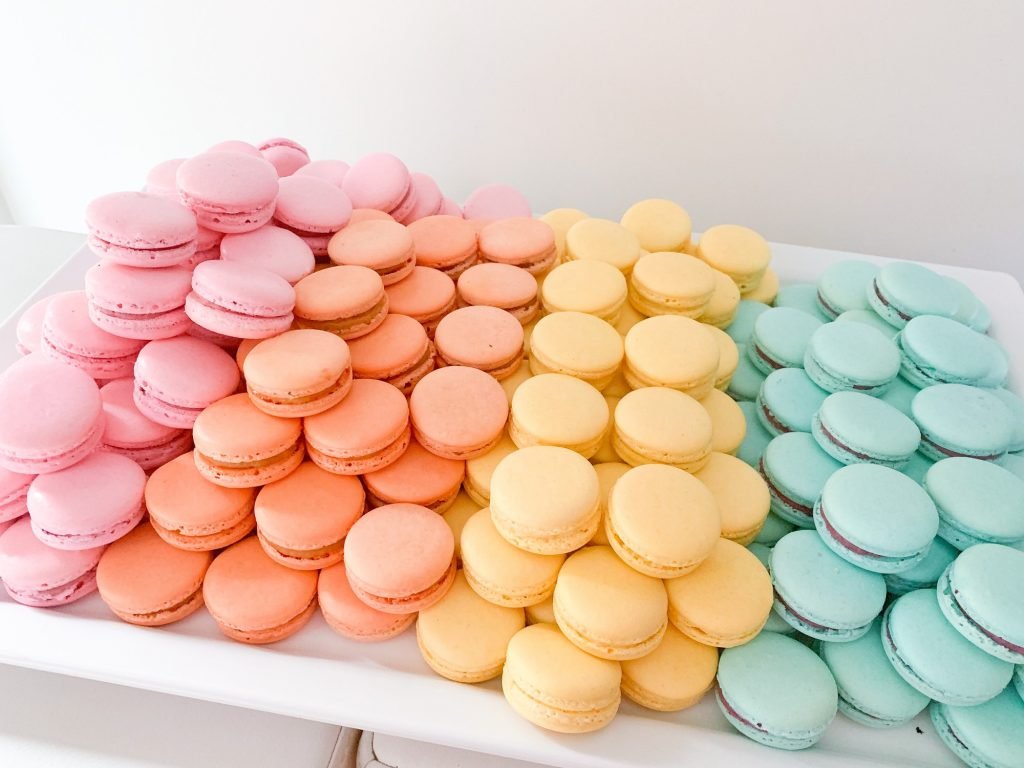 How to add food color to the macaron shells?
The easiest and safest way to color your macarons is to add a few drops of gel food coloring to the macarons batter. Be sure the toothpick or any other tool you are using for adding the color is clean and dry, so it won't ruin the macaron batter.
I recommend adding gel color to your macaron batter when you start to work on macaronage. Take a clean and dry toothpick, dip it into the gel color and add it to the batter.
It is very important to do it at the beginning of your macaronage phase. When you add the color once macaronage is almost done, there is a risk of overmixing the batter. If the batter is ready, you need to stop mixing it whatever the color looks like.
In case you add it too late there is a change the color is not evenly divided yet but there is nothing you can do about it – if you keep folding, the batter will probably end up too runny and your macarons turn out hollow, cracked, lopsided or something else you definitely don't want to happen.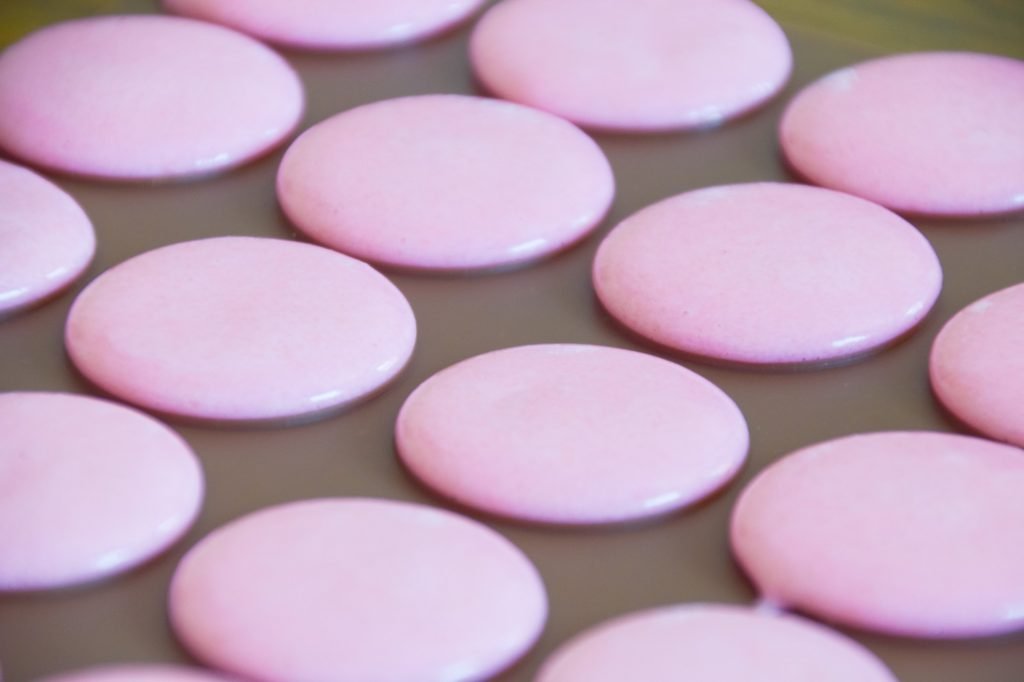 How to get pastel macaron shells?
Light and pastel tones are perfect for so many occasions like baby showers, birthdays, and elegant gatherings. The most important thing when making light pastel macarons – be careful dosing the food color. The gel food colors I recommend are very high quality and concentrated – you only need a tiny bit of it to make your macarons colorful.
In case you want to have a beautiful light pastel tone to your macarons, do not overdose on the gel. You really need just a little drop of it.
TIP: Never use liquid food coloring for macarons – it can ruin your macaron shells.
For pastel colors you can also use powdered food coloring. Powdered food coloring is safe to use for macarons because it is dry and won't ruin the macaron batter.
I recommend using Wilton Pastel Gel Food Coloring as they are super high quality and beautiful pastel colors.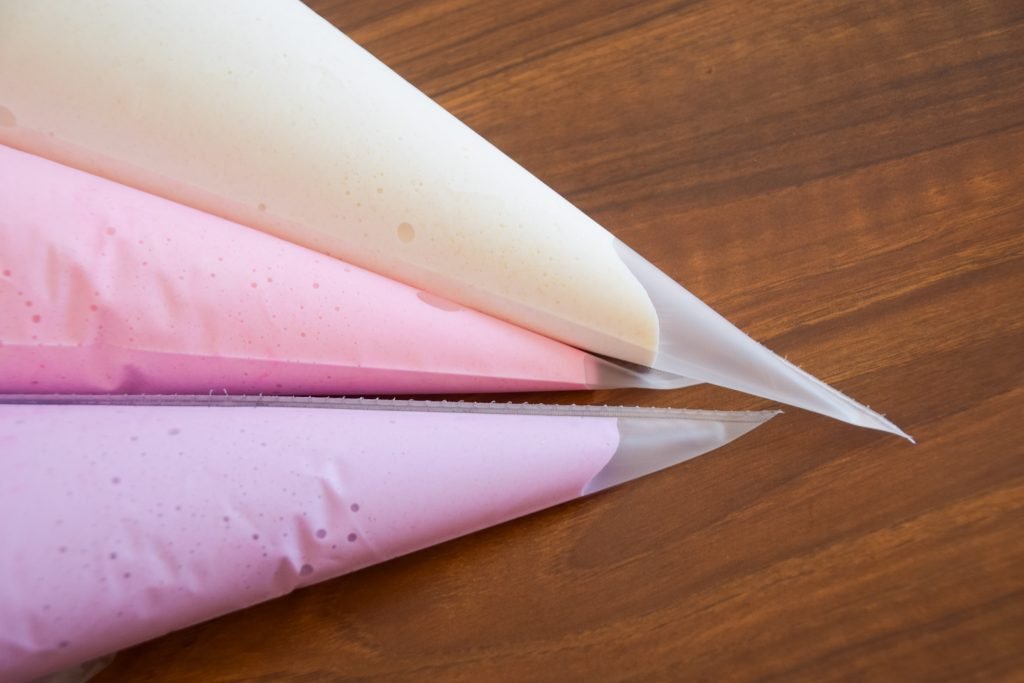 How to get vibrant colorful macaron shells?
If you want to get a vibrant color to your macarons it is best to add a tablespoon of gel food color to the sugar syrup before cooking it. It only works with an Italian Method recipe because you won't need a sugar syrup with other macaron-making methods.
Adding color to the syrup before cooking works because that way it is not affecting the consistency of the macaron batter. Macaron batter can get too runny when adding too much color straight into the batter.
I recommend using Wilton Gel Food Coloring. They are high-quality, intense, and affordable gel food colorings that work very well with the macarons.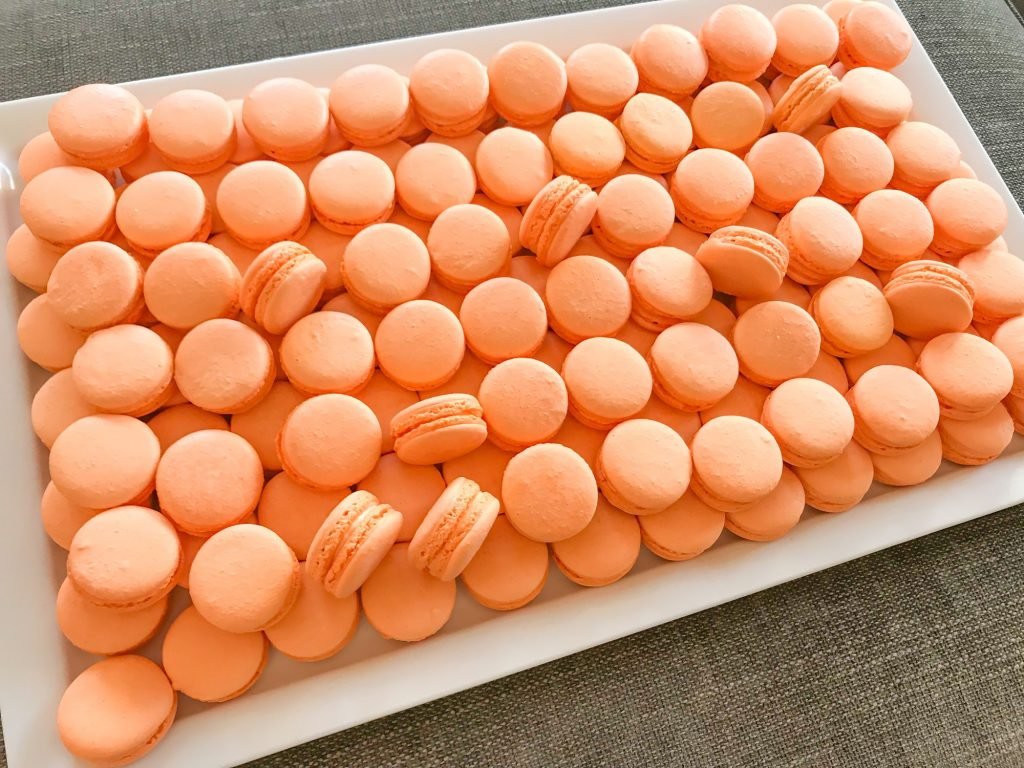 How to get white macaron shells?
In some cases, macarons without any food coloring can look a little beige or yellow. It is because almond flour is slightly yellow. Also, the high oven temperature can make your macarons turn a little darker.
I personally don't use anything to make my macarons whiter. Using an Italian Macaron Making Method and low oven temperature – my macarons look pretty white without any coloring.
It is super important to know how to properly use your oven when baking. Especially when baking white macarons. Using the right temperature and oven program, it is super easy to make your macarons look beautiful snowy white.
Tips on how to get your macarons extra white
Lower the temperature and bake them a little longer than usual
Use gel food coloring – I recommend Americolor Bright White Soft Gel Paste
If the macaron's shell's tops are still browning, place an empty tray above the macarons to lower the straight heat to them
If the macaron's bottoms are browning, place an extra tray below the macarons
Add a tiny bit of purple gel food coloring to your macaron batter. A tiny-tiny little bit. Purple neutralizes the yellow tone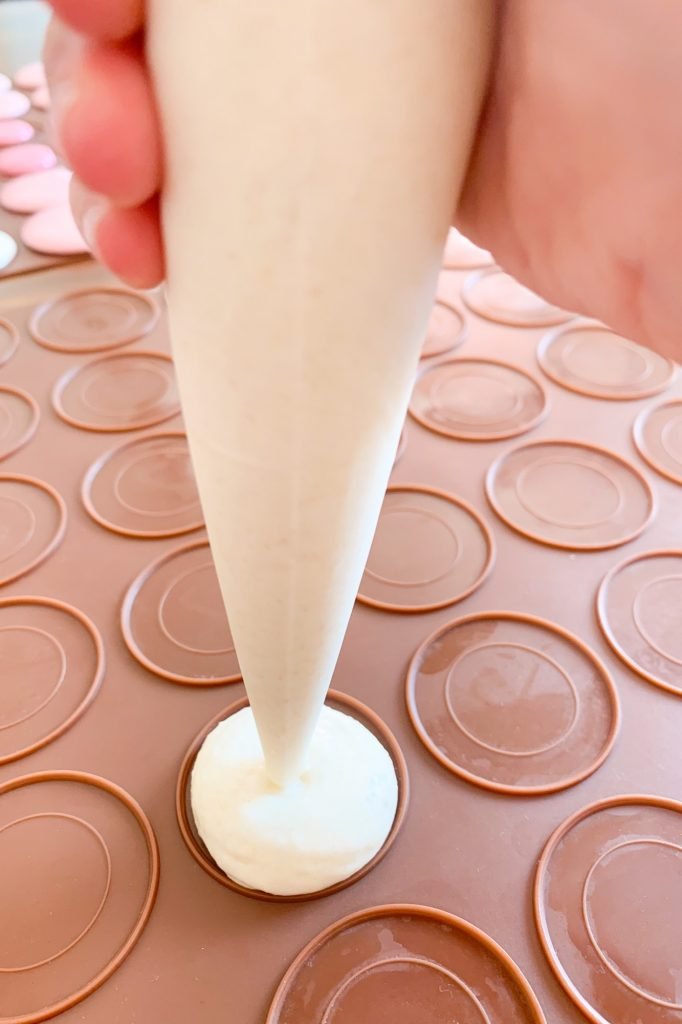 How to get black macaron shells?
For black macarons, you will need a lot of Black Gel-Based Food Coloring. I recommend adding the food color in several parts because adding too much food coloring straight to the macaron batter can result in your macaron batter being too runny.
I suggest starting with the sugar syrup and adding the first part of the food coloring to the syrup (if using an Italian Method). Adding the black food color to the sugar syrup works well if you want dark-colored macarons because it is not affecting the consistency of the macaron batter.
The next step is adding it to the egg white foam while whipping it. Lastly, add it to the macaron batter while mixing it all together. It is quite hard to get a dark black color as you really need a lot of food coloring. Otherwise, you will end up with grey macarons.
Dark black macarons look cool and satisfying. Keep in mind, that you need a lot of dark food coloring to get the black color. After eating these, it can make your mouth and teeth end up being dark and smudgy as well.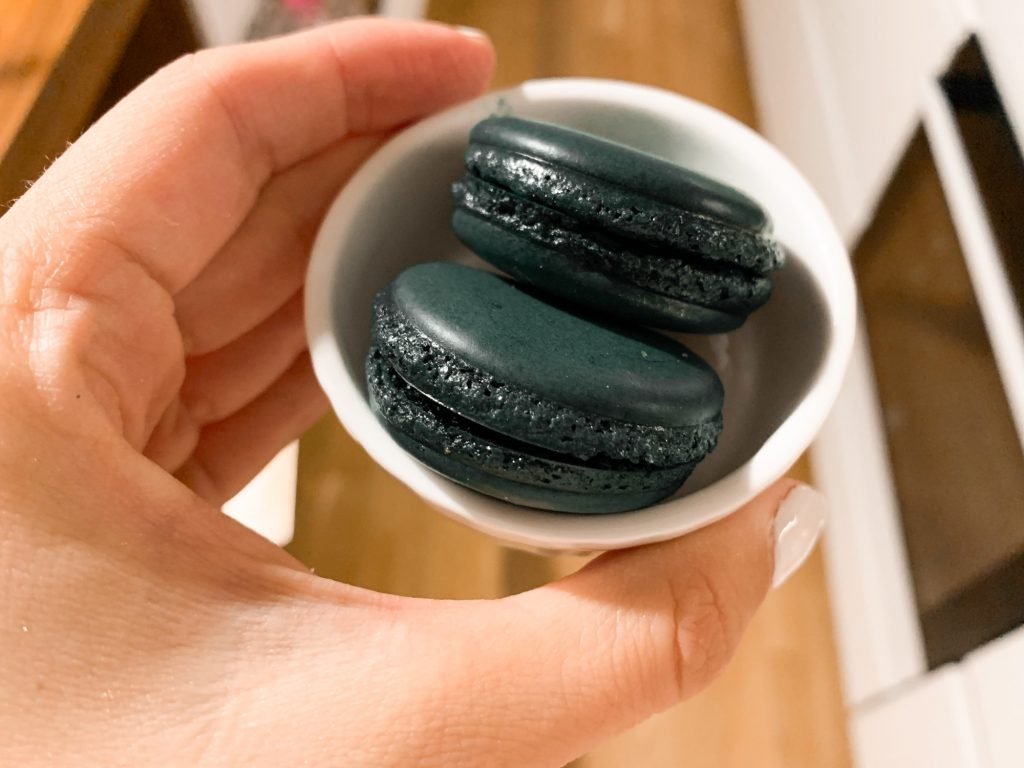 How to get red macaron shells?
To get beautiful vibrant red macarons you need to use more food coloring than usual. Otherwise, your macarons will turn out pink. I recommend doing the same as I previously said about getting the dark black macarons.
Add the Gel-Based Red Food Coloring in several parts starting with adding it to the sugar syrup. Red macarons are perfect for Christmas time. I love to make red macaron shells for cherry macarons.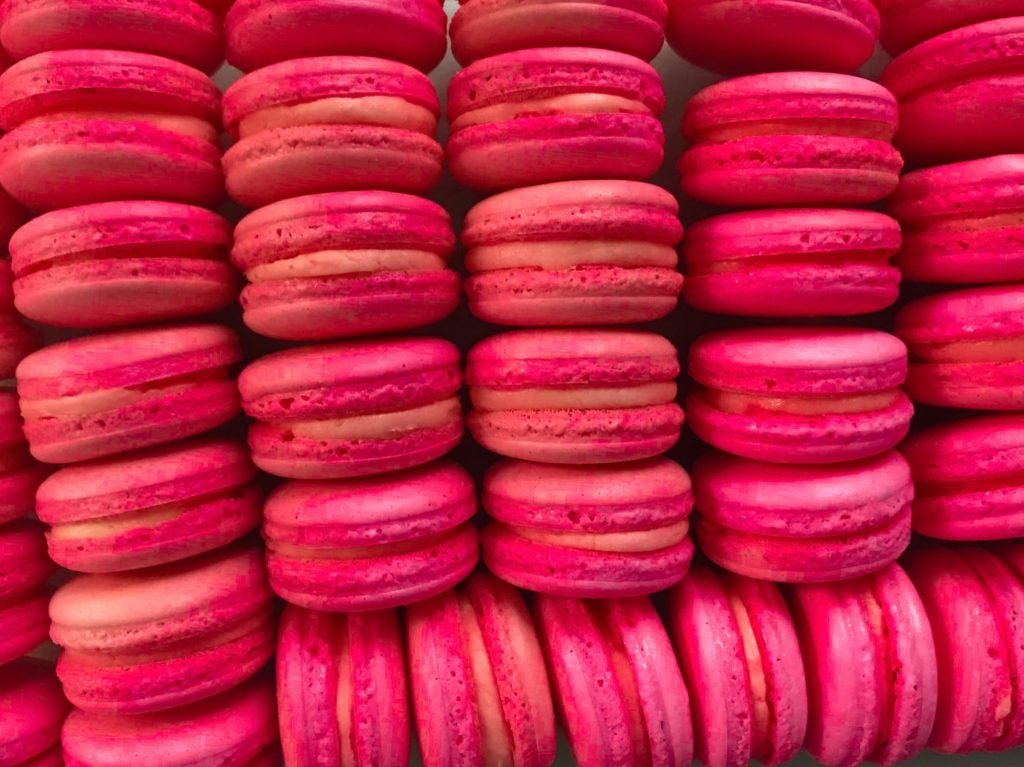 How to get purple food color for macarons?
It can be hard to find the perfect purple food coloring. I personally haven't found it yet. Many purple food colorings turn out oddly faint grayish color and are not vibrant at all. I love the purple color that I get when mixing pink and blue gel food colors.
My all-time favorite pink food coloring is Wilton Rose Pink Gel Food Coloring. I mix it with Wilton Sky Blue Gel Food Coloring and I always get the prettiest purple that way.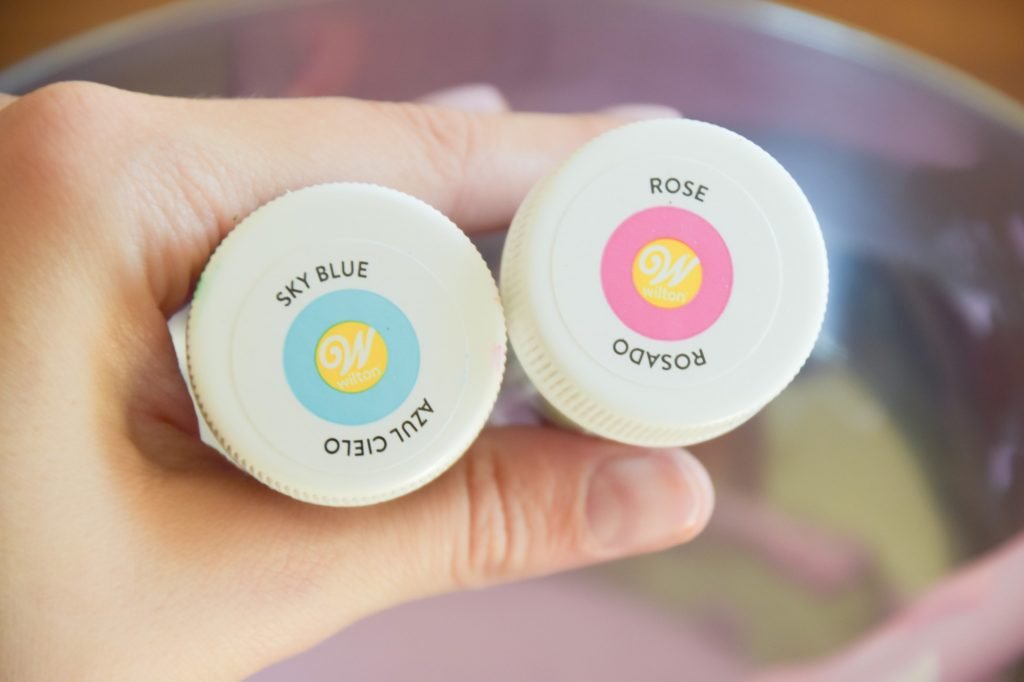 Purple macaron shells are great for Blueberry Macarons.
Enjoy your macarons!
Belli xx