How to Clean Silicone Baking Mats (4 Best Methods)
Silicone baking mats are very popular among bakers and are used for many different purposes. To keep them at their best, it's important to clean them regularly.
The typical way to clean your kitchen supplies is with soap and water, but silicone baking mats are a different story – they require something more delicate for the job.
The best way to get your silicone baking mats clean is to use a combination of hot water and lemon juice. To remove the bad bacterias completely, you can also apply strong alcohol to get the mats sterilized and therefore avoid food poisoning.
This article will provide you with helpful tips and tested methods on how to easily and quickly clean your silicone baking mats to ensure a long service life for them.
Methods to clean silicone baking mats
I would like to say that cleaning the silicone mats is easy but unfortunately, it is not – they can be quite frustrating to clean. For me, this is the most annoying part of the all macarons-making process.
The flat silicone mats are way easier to clean than the ones with the little round templates on them with edges. As unpleasant and time-consuming it is to clean them, using the mats is still worth the struggle because thanks to them, you will get the perfect sized macarons!
There are many ways on how to clean silicone baking mats. I have tried them all and can guarantee that all of the methods work great! You can use the following techniques to freshen your mats up as well!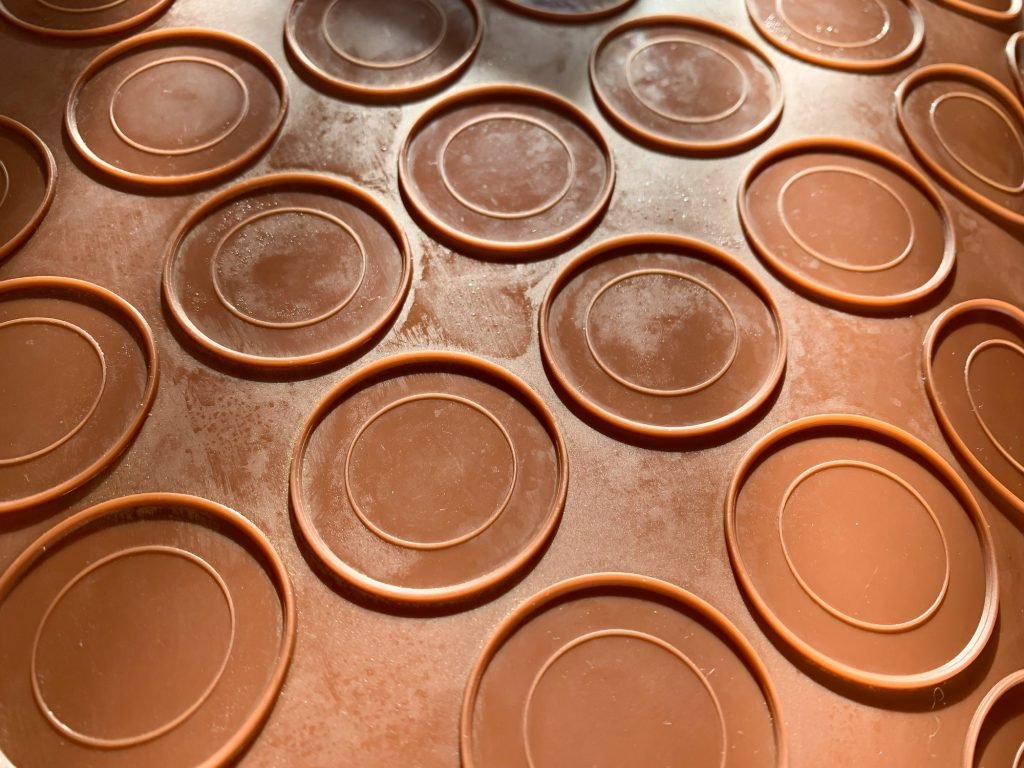 Cleaning the silicone mats with hot water
The best tip on how to clean the silicone mats is to leave them in the hot water for at least ten minutes. After that, lay your silicone mat flat in the sink and start rubbing it with a sponge.
Put the washed mats on towels that are laid down on the table or the kitchen cabinet. Wipe the remaining water off with paper towels and let them dry from both sides.
Cleaning the silicone mats with just hot water works most of the time. You don't have to always use extra help from soaps etc.
Using your silicone mats constantly, the oily ingredients can start to form oily skin on the mats and this is when the hot water is not enough to get them deeply clean. Also, it is not hygienic.
Any kind of residue is a danger for your macarons. An oily surface can make your macarons spread and stick to the mat. This is why you should use more than hot water to clean the silicone mats every once in a while.
Getting of the residue from silicone mats using lemon juice
As the pure water can't get rid of the oils, the one that helps is wiping the mats with lemon juice! Lemon juice helps to remove all the residue from silicone baking mats.
Using a lemon to get them clean is actually super easy and this method also makes them smell really good! At first, you should get them clean with hot water like said before. The next step is cutting the lemon in half and rubbing it down on the silicone mat.
Let the lemon juice stay on the mat for a minute and then rinse them with hot water to get them clean from the lemon juice.
You can also add a squeeze of lemon into the hot water and soak the mats in there. Keep in mind, that this method is not as effective and once in a while, you should still clean all the mats deeply one by one with more than just the water.
Washing the silicone baking mats with a baby bottle soap
Another great way to get your silicone baking mats clean is to use baby bottle soap. It is purer than the basic dish soaps so I prefer using them over the regular ones.
I love using this Babicanics Foaming Dish & Bottle Soap as it is fragrance-free, non-allergic, and dermatologist-tested. It also rinses free without any residue, is not irritating to the skin, and can be used daily. It comes in a pump bottle which makes it super easy and comfortable to use in the kitchen.
I typically place the silicone mats in a bowl, add a few pumps of baby bottle soap in there, and then pour them over with hot water. Next, I let the mats stay in hot foamy water at least for 10 minutes.
After doing that, lay your silicone mat flat in the sink, add one pump of Baby Bottle Soap, and start rubbing the mats with the kitchen sponge. Rinse thoroughly, leaving no trace of soap behind. Let them air-dry on the towels on both sides before storing them.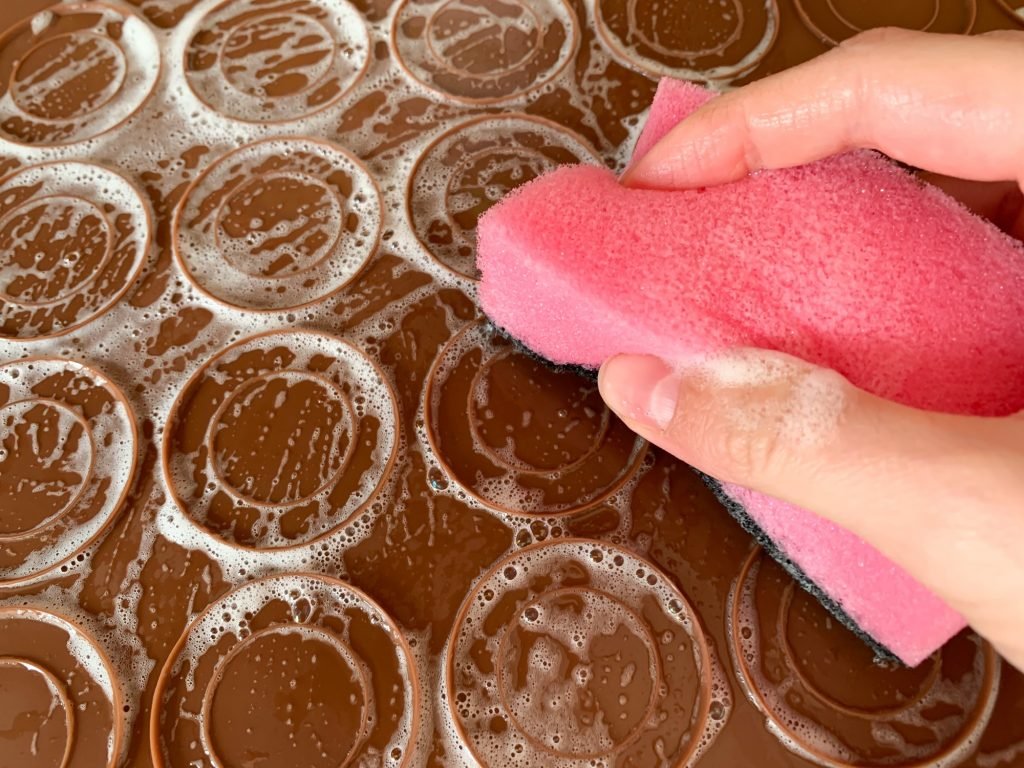 Deeply cleaning the silicone mats using strong clear alcohol
Alcohol is an excellent cleaner. It can be used to get rid of germs and bacteria in your silicone mats. Alcohol is a good choice for sanitizing them because it kills these pesky microbes that can cause infection and food poisoning.
Cleaning silicone mats with clear alcohol is one of the most common substances used to clean them. This method works well for cleaning off any dirt or debris on the mat, and it can also be used to remove leftover soap residue.
Deeply cleaning the silicone mats using alcohol is easy. At first, soak the mats in the water as said previously. Add a portion of strong clear alcohol into the water and wait at least 10 minutes.
Clean the mats as usual with warm running water. Lay the towels on the table or the kitchen cabinets and place the clean silicone mats on them. Take a bowl and make a mixture of water and alcohol. I usually make the mixture using 50% of water and 50% clear alcohol.
Using a cotton swab, cotton pad, or paper towel – rinse it in the water-alcohol mixture and rub it over the mats. Let the mats dry completely.
Why are silicone baking mats essential in any baker's kitchen
Silicone baking mats are very popular among bakers because of their many benefits:
Reusable
Cost-effective
Non-sticky surface
Easy to clean
Environmentally friendly
Silicone mats are made of flexible, heat-resistant silicone. High-quality silicone mats are BPA-free, their heat-resistant temperature is -104℉ to 446℉ (-40℃ to 230℃) and they can safely be used in refrigerators, microwaves, dishwashers, and freezers. They are used for cooking and baking to prevent food from sticking to the cooking surface.
Using parchment paper is easy – you don't clean them afterward and just throw them away after using. If used in large quantities, it is not very environmentally friendly, but it definitely saves a lot of your precious time.
Conclusion
There are many different ways to clean your silicone mats. I recommend trying all of the methods described above and finding the best way for yourself. The most important thing is to be consistent in cleaning your kitchen tools to avoid any harmful bacteria or food poisoning.
Enjoy your macarons!
Belli xx