Lemon Macarons (with Fresh Lemon Curd Filling)
The smell of fresh lemons is always a sure sign that summer is around the corner. Lemons bring back memories of sun-kissed skin, trips to the beach and lazy afternoons spent reading in the shade.
Lemon macarons are the perfect refreshers on a hot sunny day. They are sweet and also have a sour taste that complements the summer heat.
This recipe is for a light, refreshing macaron with a tart lemon flavor. It's made with citrus so it will be perfect if you love that kind of flavor! It might not be the most typical flavor, but I'm sure it will be a hit in your family!
Tools and ingredients for fresh lemon macaron shells
Tools
Kitchen scale
Sifter
Whisk
Candy thermometer
Mixer (stand or hand mixer)
Small saucepan
Silicone spatula
Two large bowls (glass or stainless steel)
Piping bags
Silicone mat/parchment paper
Toothpicks
Ingredients
4 oz (115 g) Almond flour
4 oz (115 g) Powdered sugar
4 oz (115 g) Granulated sugar
1 oz (30 ml) water
1,7 oz (50 g) Egg whites part 1
1,4 oz (40 g) Egg whites part 2
A tiny bit of food coloring – Yellow Gel Food Coloring works perfectly for lemon macarons
This amount of batter should produce about 30-40 macarons (60-80 shells).
I have put together a comprehensive recipe for baking perfect homemade macarons with Italian method. It goes into detail on every step of the process and should help you increase your success rate! I highly suggest you take the time to read this post thoroughly as well.
Baking the yellow lemon macaron shells
I recommend you to follow my detailed recipe on how to make Perfect Homemade Macarons (Italian Method). Everything is done the same as in this recipe. Just use the yellow gel food coloring for the lemon macaron shells.
Once your macaron batter is ready, you should pipe it onto parchment paper or silicone mats. After 30 minutes, the shells should have developed a matte surface over them. Now is the right time to place them into the oven.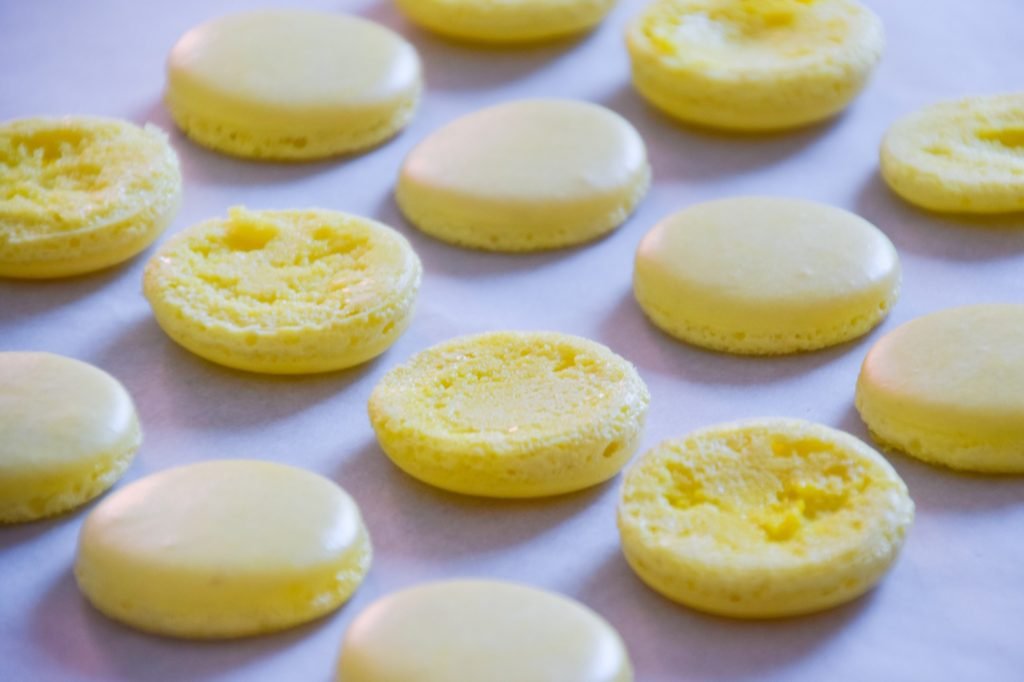 Making the filling for lemon macarons
This recipe will be ready in a short time and tastes amazing. The buttercream is creamy and it has a perfect blend of sweet & sour flavors with a hint of lemon.
Ingredients for lemon flavored buttercream
5 oz (145 g) soft butter
5 oz (145 g) powdered sugar
1 oz (30 g) mascarpone cheese
1 tablespoon of lemon zest
Juice of the half of lemon
Yellow Gel Food Coloring (optional)
Ingredients for lemon curd
Juice of 1 large lemon
1 tablespoon of lemon zest

1 egg

3 oz (85 g) white sugar
3 oz (85 g) soft butter
NICE TO KNOW: Lemons and other citrus fruits can also help relieve stress and anxiety!
Steps on how to make lemon-flavored buttercream
Place the lemon in the hot water for at least 15 minutes
Wash the lemon until its perfectly clean
Grate the clean lemon with a fine grater. I am using this Stainless Steel Fain Grater
Put 7 oz (200 g) softened butter into the mixing bowl. Beat it until it becomes fluffy
Add 3 oz (85 g) mascarpone cheese and mix until even
Start adding 7 oz (200 g) powdered sugar. Pour all of the sugar into the mixture slowly, adding it little by little
Add the zest of the lemon and around 5 tablespoons of lemon juice
Add yellow food coloring with a toothpick if needed
Mix until even and put it in the piping bag
Steps on how to make lemon curd
Place the lemons in the hot water for as long as possible to get them clean
Grate the lemon with a Stainless Steel Fain Grater
Press the juice out from lemon
Place the lemon juice, lemon zest, 1 egg, 3 oz (85 g) white sugar, and 3 oz (85 g) soft butter into the small saucepan

Put the pan on medium heat, stir constantly

It will take a little while before the butter melts and the mixture becomes even
Keep stirring the mixture over medium heat until it gets thicker
If that happens, remove the pan from the stove
Pour the curd into a glass container. Use a sifter to shake out any lumps
Cover it with a food film and store in the fridge for at least 3 hours or until it cools down
Things to know about making the lemon curd:
The lemon curd will be runny while it is being made, but once it is cooled down in the fridge, it will thicken up a lot.
You can get a lot more juice from warm lemons! Keeping them in a hot water helps.
Also, you can roll the lemons on the table or between your hands to get more juice from them.
If the heat is too high, you could end up with a lemony "omelette".
If the heat is too low, the curd won't thicken.
You need to turn up the heat if the curd isn't getting thicker. But be careful not to overcook them as eggs start to turn hard and it'll become impossible to get a creamy consistency.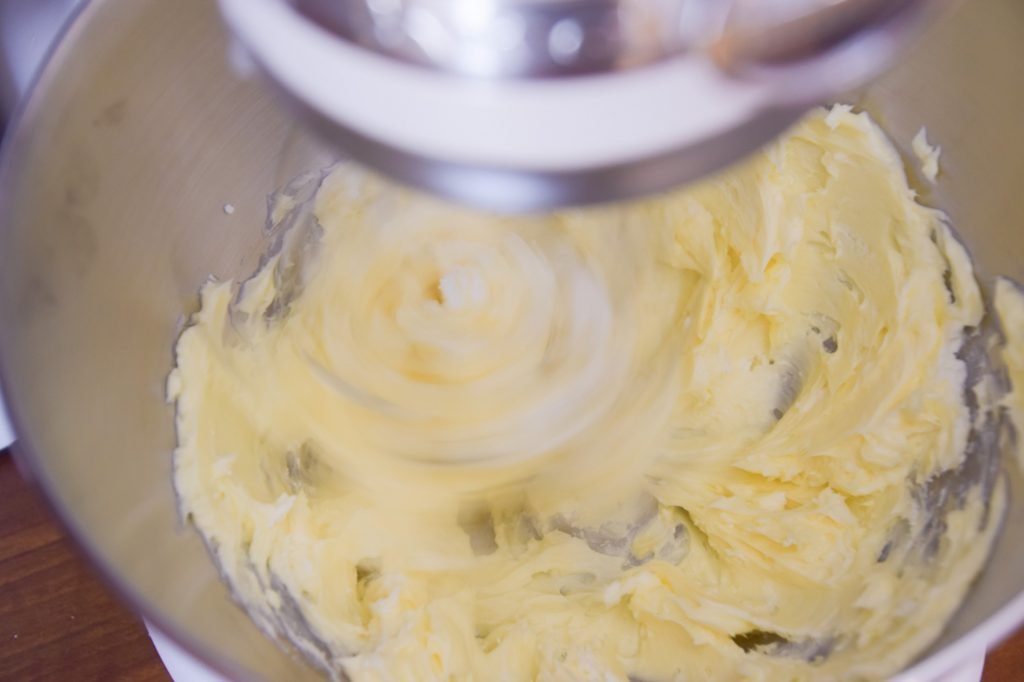 Filling the lemon macarons
Have you ever had a lemon macaron? These mouth-watering little cookies are delicious and make for an excellent dessert. They can be filled with anything from chocolate to whipped cream. One of the most popular fillings is fresh lemon curd, which pairs perfectly with the tart taste of the cookie.
It is important to wait a while before you fill your macarons because the lemon curd needs to cool down and thicken. Otherwise, it will just gradually slide away from your macaron shells and will make an absolute mess.
Pipe a small amount of filling on the center of the macaron, making a flat round of the filling in the middle of the bottom shell. By doing that, the macaron shell is not coming in contact with the wet curd filling. This can cause your macaron shell to become soggy. Do it with all the shells.
For the next step, draw a higher line around the bottoms of the macarons as shown below. Do it only for half of the shells! They should look like little holes for the lemon curd. Fill the piping bag with the lemon curd and fill up all those little pits with it.
Once all the pits are filled with the lemon curd, place the shells without a curd on top of the shells with curd and sandwich all the macarons together.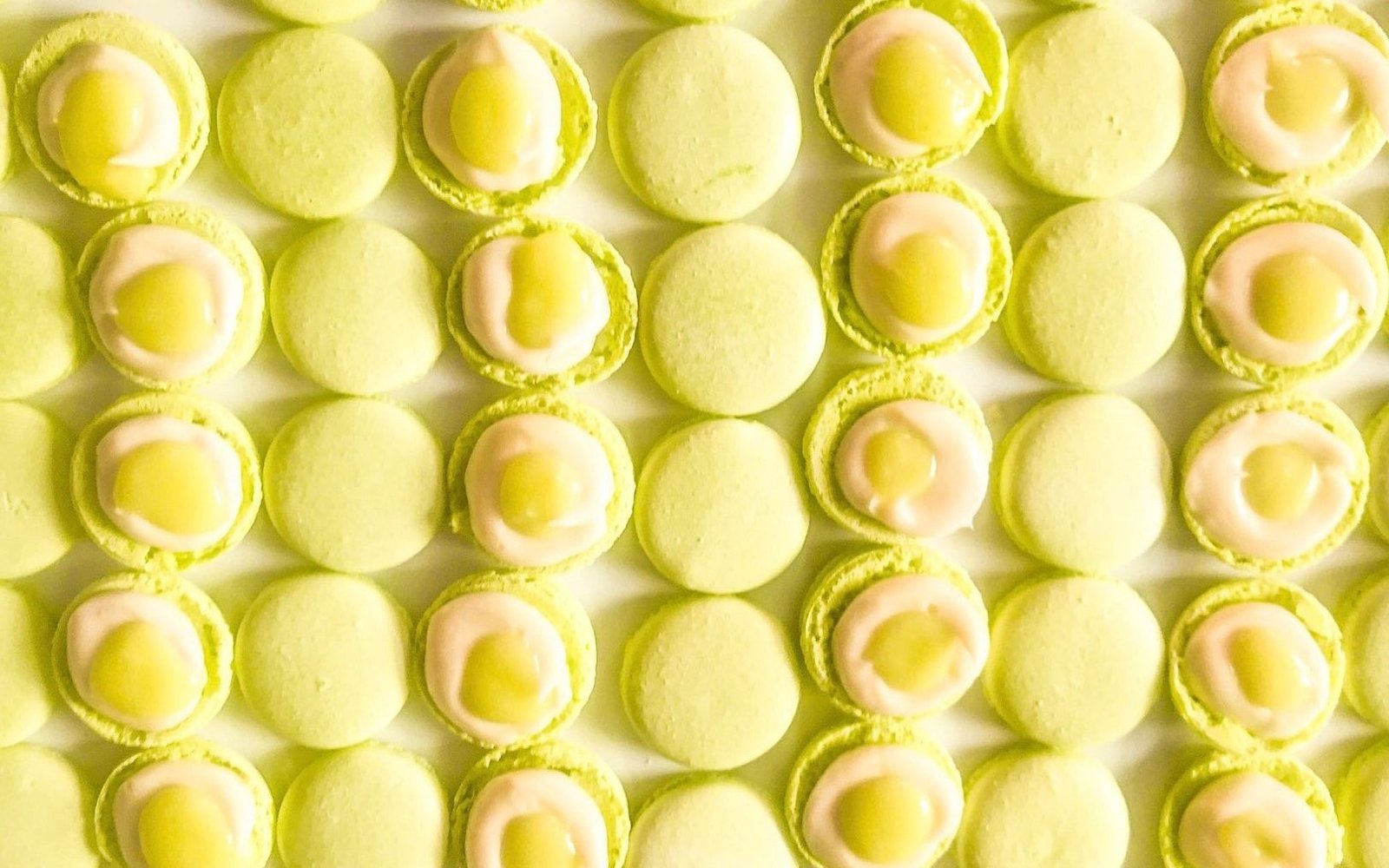 How to store the macarons and the lemon curd
Macarons are delicate, light, and sweet confections. It is best to let them mature before being eaten. They should mature in an airtight container for at least a few hours before being eaten.
For storing macarons I love to use these BPA-free Plastic Food Storage Containers. The lid is tight enough to ensure the macarons don't get any moisture and humidity. Also, they are easy to clean and are freezer-safe!
In order for your macarons to taste as yummy as they look, make sure to bake them at least one or two days before the event. Store them in an airtight container and keep them in the fridge until it's time to serve.
It's best to place lemon curd into a sterilized jar and put it in the fridge while preserving it. This should last up to a couple of weeks if done right!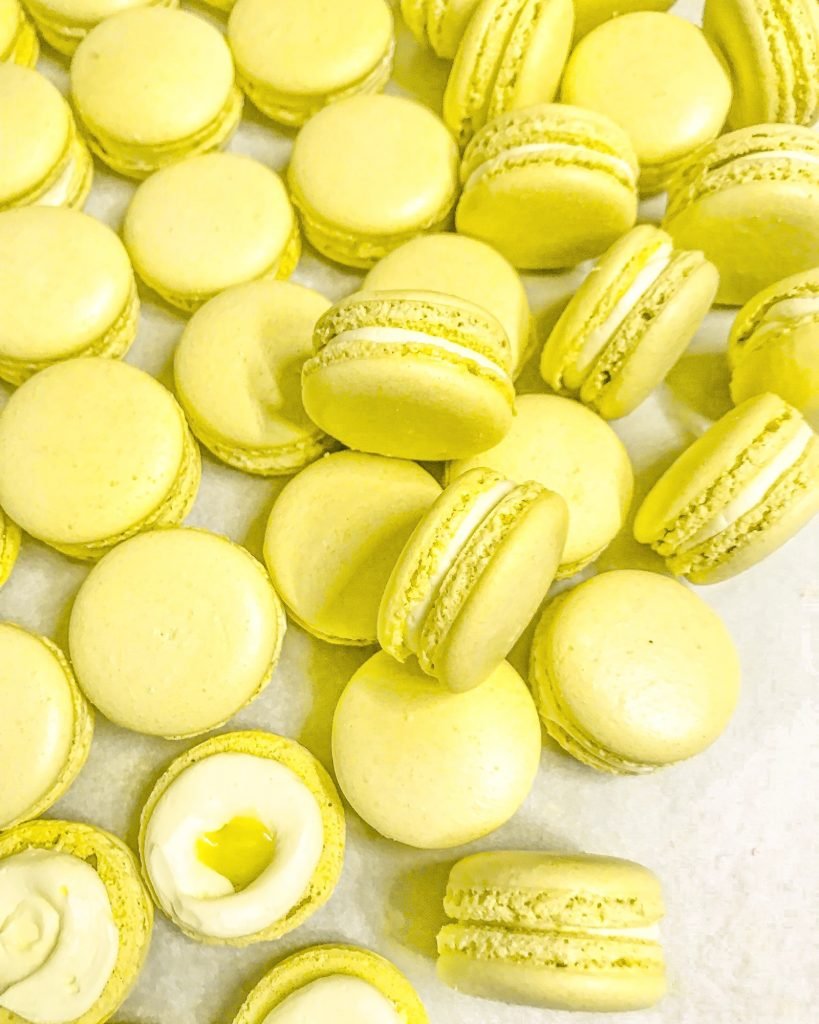 Enjoy your macarons!
Belli xx