Tools You Need to Make Perfect Macarons
Making macarons is hard work. Making them is an art that requires precision and attention to detail. It takes time and practice to become a master, but it is possible!
The first step is to learn about the right tools that are needed for baking macarons. Baking is a meticulous process that requires precision, patience, and a sense of timing. Punctuality is the key to success.
As I have been baking macarons for almost 10 years, I have tried so many different tools and found my favorites that I would love to recommend to others as well. One thing I learned is that using the right tools makes it a lot easier to succeed in making macarons.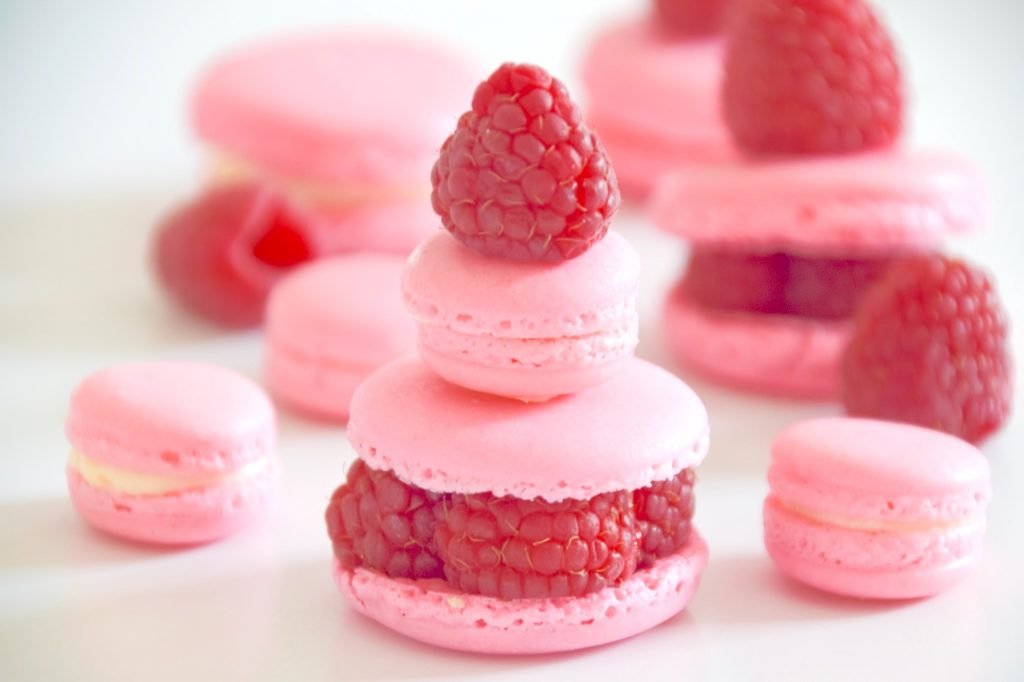 Tools you need for making macarons
Digital kitchen scale
Sifter
Stainless steel or glass mixing bowl
Electric mixer
Silicone spatula
Small saucepan (for the Italian method)
Candy thermometer for sugar syrup (for Italian method)
Parchment paper or silicone mat
Piping bags
As an Amazon Associate, I may earn from qualifying purchases.
Digital kitchen scale
Having a kitchen scale is a MUST when making macarons. You just can not do it without the scale. To make the perfect macarons you need to weigh every ingredient very precisely.
Do not trust the macaron recipes that say for example "use 3 eggwhites". Eggs can have very different weights and following a recipe with inaccurate values is just not enough. You definitely need to weigh the egg whites like any other ingredients.
I like to use this Digital Kitchen Scale as it is waterproof, super easy to clean, and is great in size to fit even the largest bowl on it for sifting. It also has a large display that makes it easy to read the numbers. The scale has 5 unit conversions (g, kg, lb: oz, fl-oz, ml), and can measure up to 22lb (10kg) of items in 0.1oz (1g) increments.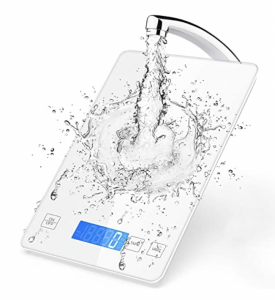 Sifter
If you want your macarons to be nice and smooth then you need to sift the almond flour and powdered sugar. While sifting, you will get rid of big chunks of almonds and sometimes there can be big lumps in the powdered sugar as well. Do not skip this step as it is extremely important. I like to use this sifter – it looks super cute and does the work perfectly.
Stainless steel or glass mixing bowls
Why is it not good to use plastic bowls? Because plastic tends to absorb oil and using an oily bowl for whipping egg whites can ruin the meringue. This is the last thing you want to happen so it is highly recommended to use stainless steel or glass bowls.
I love-love-love these Blanda Blank stainless steel bowls from IKEA! I personally have some larger ones and also several smaller bowls. In addition, they are super easy to clean and store!
You can be sure, that these IKEA mixing bowls are of high quality, as I have been using mine for at least 7 years now on daily basis and they still look good! Also, they are very affordable and in a great size for mixing the macaron batter or even making dinner for a big family.
Electric mixer
You definitely need to have an Electric Mixer when you want to make flawless macarons. Yes, you can whisk the egg whites manually by hand as well but this is a hard job that takes at least half of an hour.
To save your hands (and nerves), I recommend investing in an electric mixer. Before whipping the egg whites make sure that the mixer is cleaned well!
Unless you are on a tight budget, it would be even better to buy a stand mixer! It makes your life so much easier if you spend a lot of time in the kitchen.
Silicone spatula
Everyone should have at least one good silicone spatula in their kitchen as it can be used for so many things. Silicone spatulas are perfect for folding macarons batter but there are many other benefits as well.
Spatulas are made from many different materials such as wood or plastic. Compared to other materials, silicone spatulas are easier to clean and can resist very high temperatures. That's why they are used so widely in kitchens. Also, wood spatulas are more porous and can harbor more bacterial growth.
I have around 10 silicone spatulas at home and use them on a daily basis. I truly think that you can never have too many silicone spatulas. I also use mini spatulas for smaller amounts of batter.
I recommend this Silicone Spatula Set because it is cheap, high-quality and you will also get a little mini spatula and pan scoop as well which are also very comfortable to use. Additionally, if you like the pink color, it will have some more bonus points for you.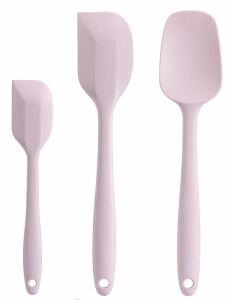 Small saucepan
When baking macarons using the Italian Method, a small saucepan is needed to make sugar syrup. Any kind of saucepan is totally fine to use. I got mine here.
These small saucepans are also great for making different fillings for macarons. For example, lemon curd, salted caramel, and chocolate ganache. Usually, you won't need much of the filling so it is good to have small-sized pans. It also saves space in the dishwasher afterward.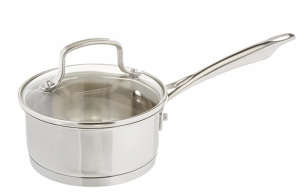 Candy thermometer
A candy thermometer is used for measuring the sugar syrup's temperature. Sugar syrup is needed when making macarons using the Italian Method. Sugar syrup stabilizes the macaron batter and makes the success rate higher!
For making macarons in the Italian method, you have to boil sugar syrup for it. The syrup needs to be at a certain temperature before adding it to the meringue. There is no other way to correctly measure the syrup temperature other than using a candy thermometer. I like to use a basic Digital Candy Thermometer.
Parchment paper or silicone mat
It looks like half of the macaron bakers prefer parchment paper and the other half prefer using silicone mat. I recommend trying both of them.
TIP: I have written a complete post about comparing these two to each other – Which is Better for Baking Macarons – Parchment Paper or Silicone Mat. This post covers all you need when making a decision. It even includes tables approximating the costs and some really helpful tips.
Using parchment paper
When I started making macarons, I used parchment paper for years and loved it. There is a huge difference in what kind of parchment paper to use. Some of them are too thin for macarons as the macaron batter can make the paper wet.
Wet and thin parchment paper can turn wavy and as a result, macaron batter can spread unevenly and the macarons can turn out lopsided or uneven. Always prefer the stronger parchment papers. I can recommend this Parchment Paper as it is thicker than most of the other products and it also comes with a nice box. If using this. you can be sure the sheets will not get wrinkly.
There are also Reusable Parchment Papers on sale! They are also great for baking macarons. They are easy to clean and good for the environment as you can use them many times.
Using silicone mat
There are lots of different silicone macarons mats on the market. You can even find silicone mats with little edges that are made for macarons. The edges help your macarons look identical in shape. This is important for someone who makes macarons for sale and everything needs to look perfect.
I am using these very common basic brown Silicone Macaron Baking Mats. I am very happy about my mats! They are not the easiest and quickest to clean and dry but my macarons will look perfect and identical because of the round molds. I guarantee you that despite the pain to clean them it is worth trying to use these mats.
There are also Silicone Macaron Baking Mats that don't have edges. These kinds of mats are good for baking macarons in different shapes. For example, the Unicorn-Shaped Macarons! These mats are also great to use on a daily basis as a replacement for parchment paper.
As these silicone baking mats are see-through, you can easily place a template below the mat if needed. In case you bake macarons at home for just you and your family, you probably don't need them to be 100% identical in size. Using a flat mat without the edges might be a better option as you can use it for other things too.
There are also flat silicone mats that have drawn templates on them! Some of them just have basic rounds on them for round-shaped macarons. Some mats even have some ears etc. for making macarons in different shapes!
Piping bags
You need piping bags to place the macaron batter in it. Later, when macarons are baked, you also need them for the fillings.
I like to have piping bags in different sizes to choose between them depending on the amount of batter or filling you make. I am using these Piping Bags as they are BPA-free, non-toxic, and tasteless.
Nice to have tools for making macarons
Oven thermometer
Round piping tip
Whisk
Electric stand mixer
Oven thermometer
Even though every oven has a built-in thermometer, it is still nice to have an extra one to be sure the temperature is right. Especially when making some challenging desserts! This Stainless Steel Instant Read Oven Thermometer does the job perfectly!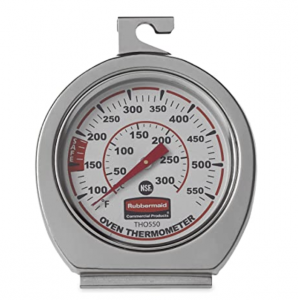 Round piping tip
I highly recommend using a round tip if you are a beginner in the macarons world. It makes it much easier to create a beautiful round-shaped macaron shell. It is fine if you don't have one as you can still make macarons using other piping tips! In case you don't have any, just cut a little hole in the piping bag.
I still recommend having different sizes of round tips at home. They are very helpful for making macarons in different shapes as well! I have found these Ateco Stainless Steel Round Piping Tips convenient!
Whisk
I am sure everyone has a basic whisk in their kitchen. Using a whisk is very convenient for mixing together almond flour and powdered sugar! I like to have them in different sizes. These Gold and Pink Whisks come in 3 sizes and as a bonus, look gorgeous!
Electric stand mixer
Yes, you can use a hand mixer for making macarons. Yes, it works well. But it is so much easier to use a stand mixer as it will save you a lot of time.
I keep recommending everyone to use KitchenAid Artisan Stand Mixer! My KitchenAid stand mixer is around five years old, I have used it almost daily and it still works like new. The best investment for any baker out there! 🙂
Enjoy your macarons!
Belli xx