How to Make Unicorn Macarons at Home
Macarons are sweet one-bite desserts made from egg whites, sugar, and almond flour. Macarons can be made in a lot of different shapes and in this blog post, we are focusing on unicorn-shaped macarons!
Unicorn macarons are the latest dessert trend to take over the internet. These macarons are made in a variety of colors and flavors, making them the perfect dessert idea for kid's birthday party!
Unicorn macarons are so popular because no one can resist their charm. The cute little cheeks and gold horn on top of these pastries are what makes them so irresistible.
Tools and ingredients for Unicorn macaron shells
Tools
Kitchen scale
Sifter
Whisk
Candy thermometer
Mixer (stand or hand mixer)
Small saucepan
Silicone spatula
Two large bowls (glass or stainless steel)
Piping bags
Silicone mat/parchment paper
Toothpicks
Ingredients
4 oz (115 g) Almond flour
4 oz (115 g) Powdered sugar
4 oz (115 g) Granulated sugar
1 oz (30 ml) water
1,7 oz (50 g) Egg whites part 1
1,4 oz (40 g) Egg whites part 2
This amount of batter should produce about 30-35 macarons (60-70 shells).
I have put together a comprehensive recipe for baking perfect homemade macarons with Italian method. It goes into detail on every step of the process and should help you increase your success rate! I highly suggest you take the time to read this post thoroughly as well.
Preparations before piping the unicorn macaron shells
I recommend you follow my detailed recipe on how to make Perfect Homemade Macarons (Italian Method). Until piping, everything is done the same as in the making of basic round-shaped macarons.
While making unicorn macarons, you won't need any food coloring as the macaron's batter is naturally light-colored. Sometimes the batter can be slightly yellow because of the almond flour. In case you need your macarons to be super white, I recommend you to use white gel food coloring – AmeriColor – Bright White Soft Gel Paste is a good choice for that!
Once the macaron batter is ready for piping, I suggest you use two different piping bags – one for the regular macaron shells and one for piping the horns and ears to your unicorn macarons. As the horns and ears are a lot smaller than the macaron shell itself, it is good to use a separate piping bag with a smaller hole in it for piping.
As I already said, it is best to use two piping bags. Place most of the batter into the first one and just leave a few tablespoons of the batter for the other piping bag.
Cut holes in the bags for piping the macarons. For the second bag that only has a little bit of the batter, cut around 3 times smaller hole. Remember, that you can always cut it bigger later if needed, but you can't go back to smaller.
You can also use piping tips if that makes the piping process easier for you. Although you can do it perfectly without using them – piping tips are not essential when it comes to piping. You can use piping bags without any kind of attachment, but you might notice that it may be harder to control the amount of frosting coming out.
Piping the unicorn-shaped macarons
Piping out unicorn-shaped macarons is actually quite easy! It may seem difficult, but it's really not.
At first, you need to pipe out just basic round-shaped macaron shells. You should be leaving more space between the shells when making round-shaped macarons. This will allow you to add some unicorn horns-and-ear combinations to your macaron shells.
As you later sandwich two macaron shells together, you only need to add horns and ears to the half of the shells that are going to be the top of the macaron. The other half of the shells are going to be the bottom of the macaron and I usually leave them to be just basic white rounds.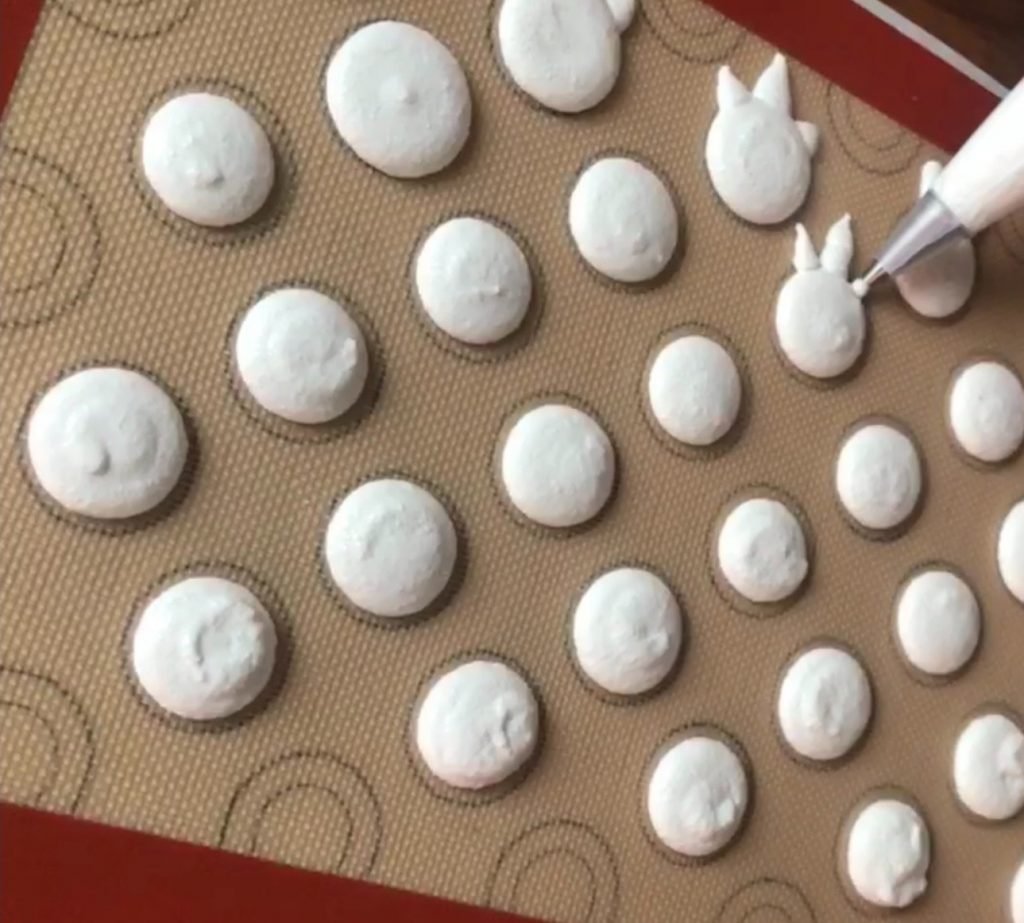 Decorating unicorn macaron shells
There are many cool ways to decorate unicorn macarons. The easiest thing is to sprinkle the shells over with nonpareils or colorful sugars.
As most of the sprinkles can handle the heat, it is best to use them before you put the macarons into the oven. Doing that before baking is a good idea as the sprinkles will stick to the macaron shell and you don't have to glue them to the shell later. I like to sprinkle my unicorn macarons over with Colored Sugar.
TIP: Do not sprinkle the decorations all over the macaron shell as you want to draw the eyes and cheeks to the macaron later as well. I like to use sprinkles below the horn and ears.
For the unicorn's horns and ears, I love to use Edible Gold Luster Dust. You need a small bowl with a few drops of water or clear alcohol. Pour a small amount of gold edible luster dust into the bowl and mix it together to get a gold liquid paste. Using a small brush, color the unicorn's horn and ears. Let it dry before proceeding.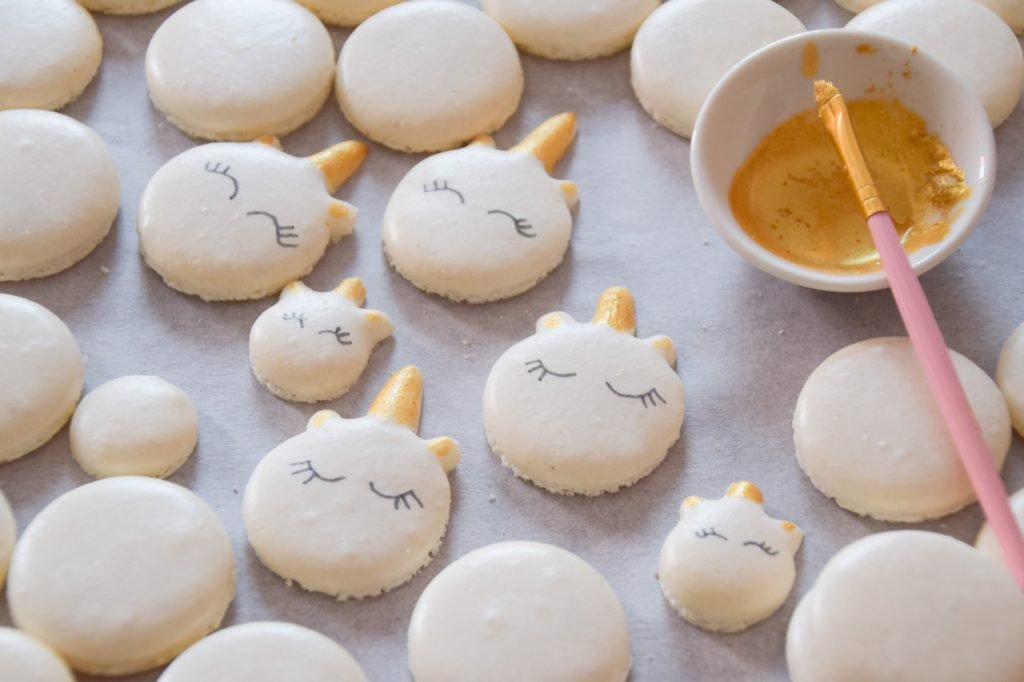 The most important part of a face is the eyes. You will need an Edible Black Pen to draw the eyes on the macaron shells. See the example below for how I usually draw them. You can also get creative and draw exactly the kind of eyes you want.
For the cute blushy cheeks, it is best to use pink or red Powdered Food Coloring and a small Brush. Gently stick the brush into the powdered food color, knock down the excess powder and brush the cheeks on the unicorns.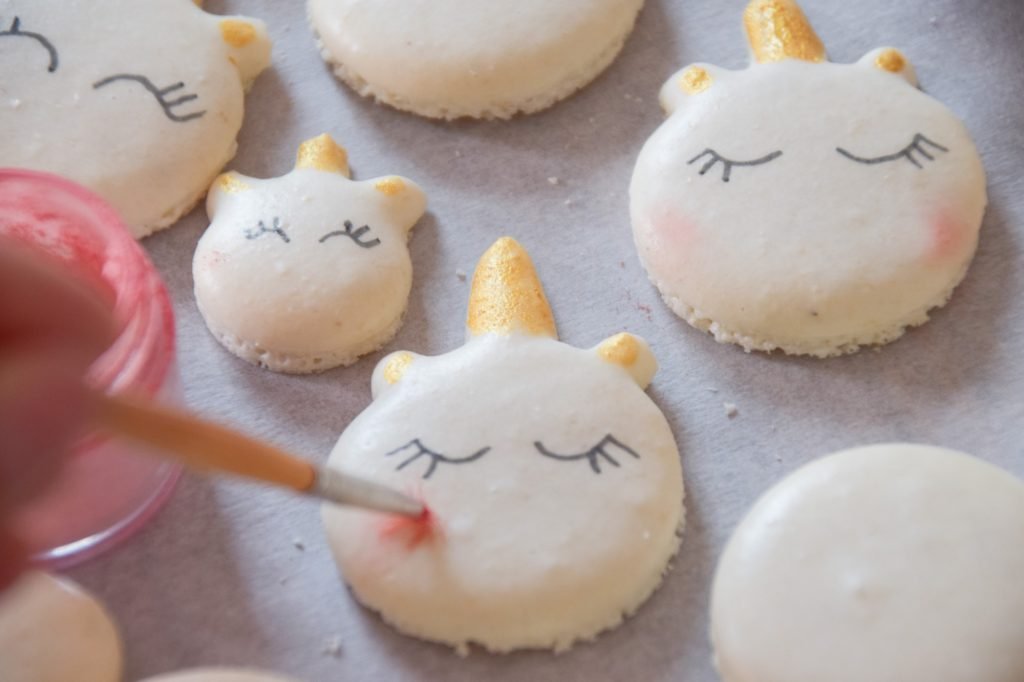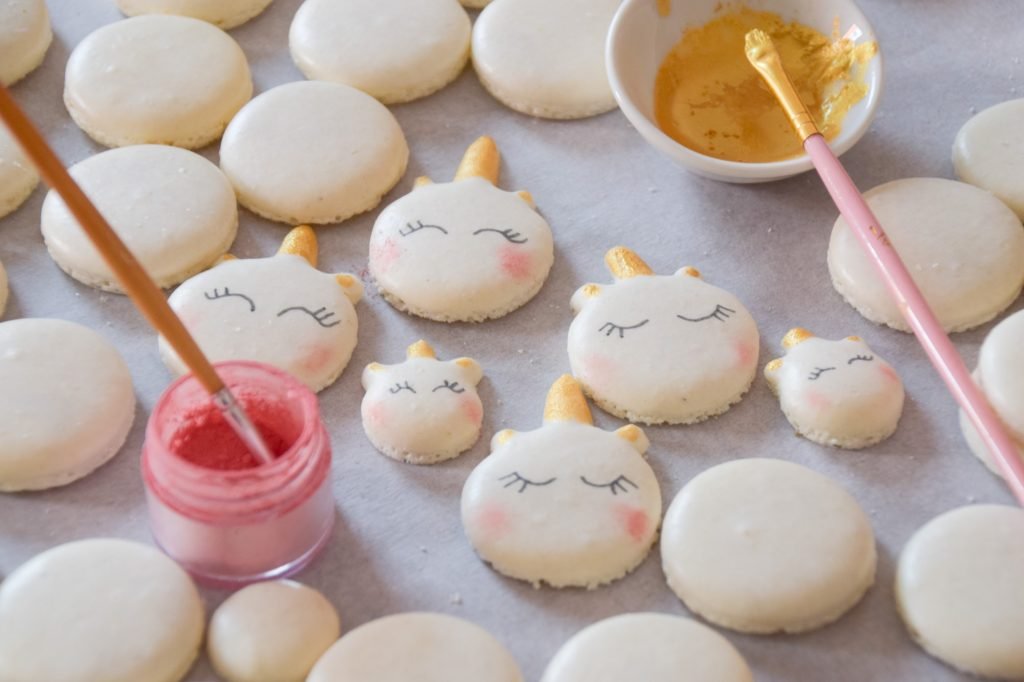 How to make bubble gum filling for unicorn macarons
The fairy tales are coming to life in these bubblegum-flavored macarons! The sweet bubble gum filling is the perfect addition to the unicorn macaron shells.
Ingredients for bubble gum filling
7 oz (200 g) butter (room temperature)
3 oz (85 g) mascarpone cheese (room temperature)
7 oz (200 g) powdered sugar
Food coloring (optional)
Steps on how to make the bubble gum filling
Add 3 oz (85 g) of mascarpone cheese and 7 oz (200 g) of butter into the bowl. Start whisking with your mixer. Slowly add 7 oz (200 g) of powdered sugar. Mix on high speed until fluffy and even, it takes around 3 minutes using a KitchenAid Stand Mixer. 
Add a few drops of LorAnn Bubble Gum Flavor and mix until even.
Add a tiny bit of food coloring if you would like your macaron filling to have a color.
Taste the fluffy cream and add more bubble gum flavor if needed.
Take the piping bag and place the filling in the bag and set it aside. For making your macarons look extra cool, use Closed Star Piping Tip for piping the filling between macaron shells.
Now it is time to start piping the filling between the shells.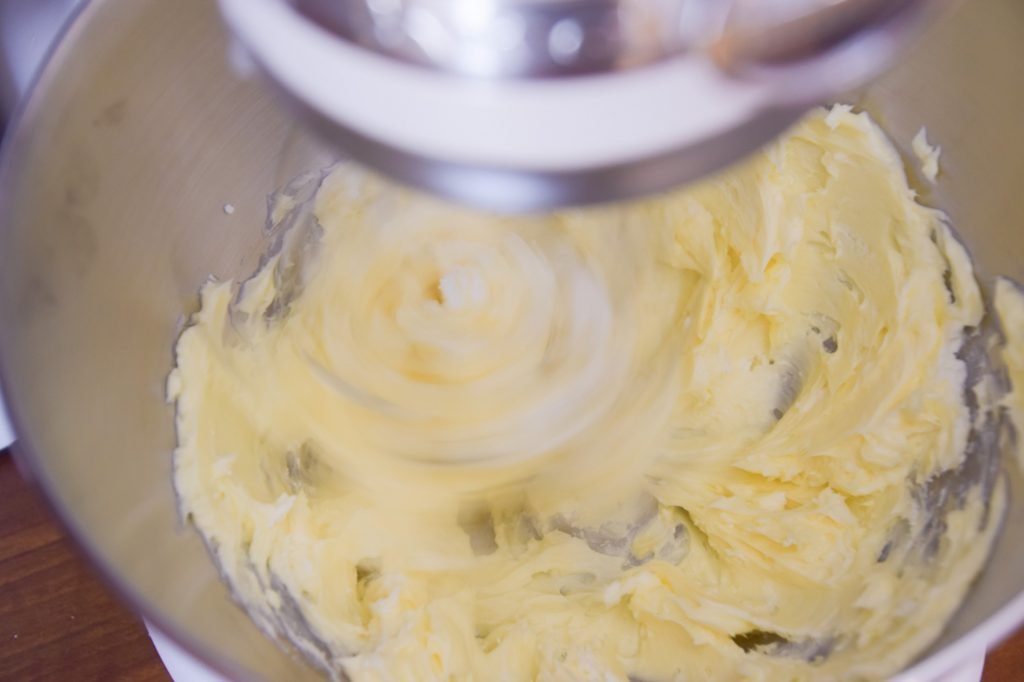 How to fill the unicorn macarons
Fill the inside of the shell with a layer of filling by piping it from the top to the bottom at a 90-degree angle. I recommend using a small amount of the filling at first to see the outcome and if necessary, make the corrections for the next ones.
Fill only half of the shells. Put the filling on the white round-shaped macaron shells and use the ones with a horn, ears, and face for the upper ones.
Slowly put the macaron shells together and you will see if you need more filling or not. If you are using too much filling between the shells, it will spread out after the shells are sandwiched together. You can always remove one shell and add more filling when needed.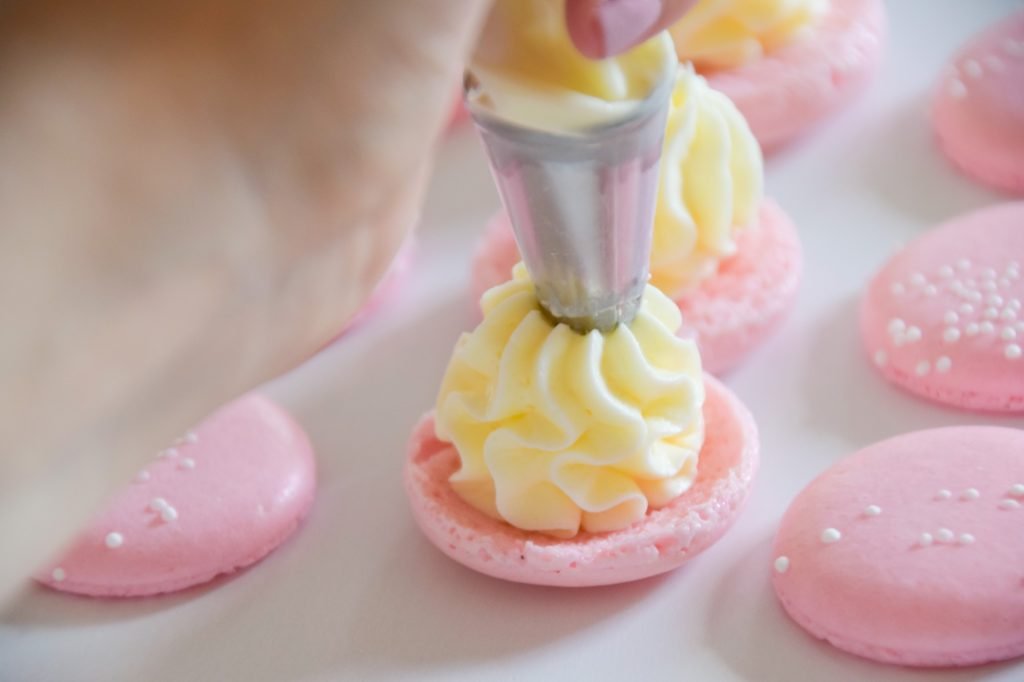 How to store the unicorn macarons
Macarons are fragile and break easily. Especially unicorn macarons as they have little tender horns and ears. These little pastries are so delicate, which is why they have to be handled with care.
The best way to store unicorn macarons is to place them upright in the box. Put them closely next to each other to avoid the macarons from moving around.
Place the sandwiched unicorns in an airtight container and let them mature for 2-24 hours. After that, they are ready to be eaten.
You may be wondering how to store your macarons so they stay fresh. Just put them in the fridge in an airtight container. Macarons can be stored for at least up to 7 days.
Enjoy your macarons!
Belli xx