Strawberry and Sparkling Wine Macarons
My strawberry and sparkling wine macarons will delight your tastebuds and keep you coming back for more. Our specialized recipe is the perfect blend of flavors that's sure to please any occasion.
Sparkling wine and strawberry macarons are a delightful treat that any foodie would enjoy. The addition of edible sparkling luster dust makes them even more special and perfect for any celebration. These macarons can be served with fresh strawberries for a delectable dessert.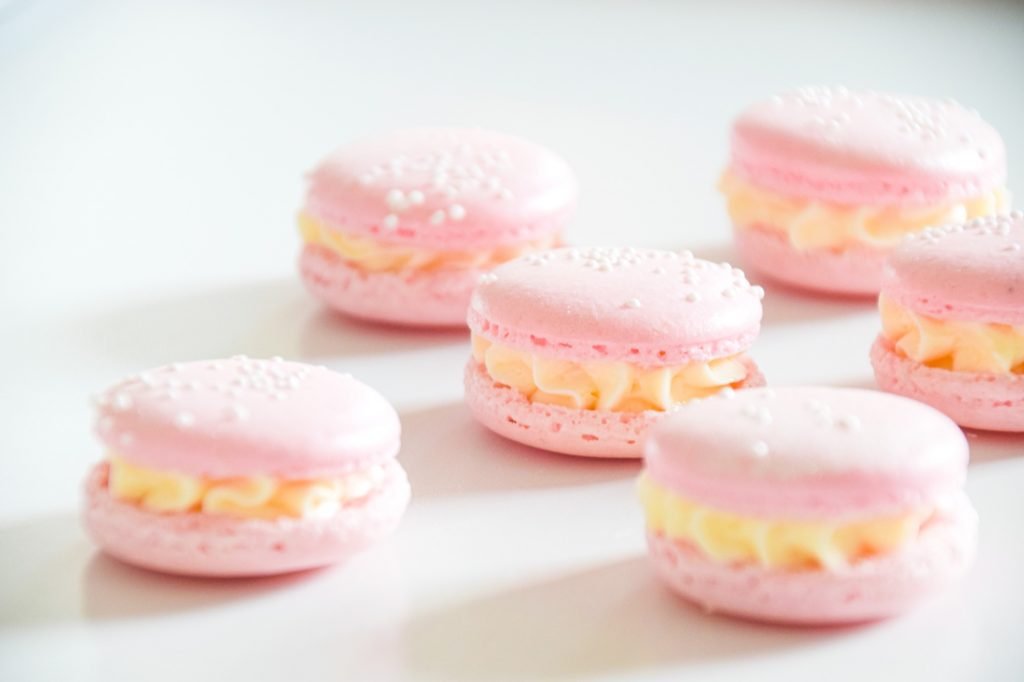 Tools and ingredients for strawberry and sparkling wine macaron shells
Tools
Kitchen scale
Sifter
Whisk
Candy thermometer
Mixer (stand or hand mixer)
Small saucepan
Silicone spatula
Two large bowls (glass or stainless steel)
Piping bags
Silicone mat/parchment paper
Toothpicks
Ingredients
4 oz (115 g) Almond flour
4 oz (115 g) Powdered sugar
4 oz (115 g) Granulated sugar
1 oz (30 ml) water
1,7 oz (50 g) Egg whites part 1
1,4 oz (40 g) Egg whites part 2
A tiny bit of food coloring – Light pink works perfect for strawberry & sparkling wine macarons
White nonpareils
TIP: I have put together a comprehensive recipe for baking perfect homemade macarons with Italian method. It goes into detail on every step of the process and should help you increase your success rate! I highly suggest you take the time to read this post thoroughly as well.
Baking the strawberry & sparkling wine macaron shells
I recommend you follow my detailed recipe on how to make Perfect Homemade Macarons (Italian Method). Up until putting macarons into the oven, everything is done the same as in this recipe.
Once the macaron batter is ready and is piped out to the parchment paper or silicone mats, it is time to sprinkle them over with white sprinkles. There are many different products available, but I like to use these White Nonpareils Sprinkles.
There are many ways to decorate macarons. One of the easiest ways is to use sprinkles. The small circles of sugar will stick to the wet surface of the macaron and give it a textured look that mimics what you would see in an expensive bakery.
Sprinkle the macaron shells over with the sprinkles as soon as you had them piped out as the batter is still wet and the sprinkles will nicely stick to it.
Make sure you are using the nonpareils that can handle the heat and won't melt in the oven. Most of them are absolutely fine to place into the oven.
Making the strawberry & sparkling wine macaron filling
This recipe is quick, easy, and best of all – it tastes amazing! The buttercream is creamy and rich with a sweet, tart flavor from the touch of strawberry.
Steps to follow
Make the strawberry puree using a food processor for a minute or just smash the strawberries with a fork.
Add 7 oz (200 g) softened butter to your bowl and beat it until it becomes fluffy.
Add 3 oz (85 g) cream cheese and mix until nice and even.
Start adding 7 oz (200 g) of powdered sugar. Pour all of the sugar into the mixture slowly, gradually adding it until you have mixed in all of the sugar.
Add a few drops of LorAnn Sparkling Wine Flavor and Lorann Strawberry Flavor.
Stir in strawberry puree and add pink food coloring with a toothpick. (optional)
Mix until even and put it in the piping bag.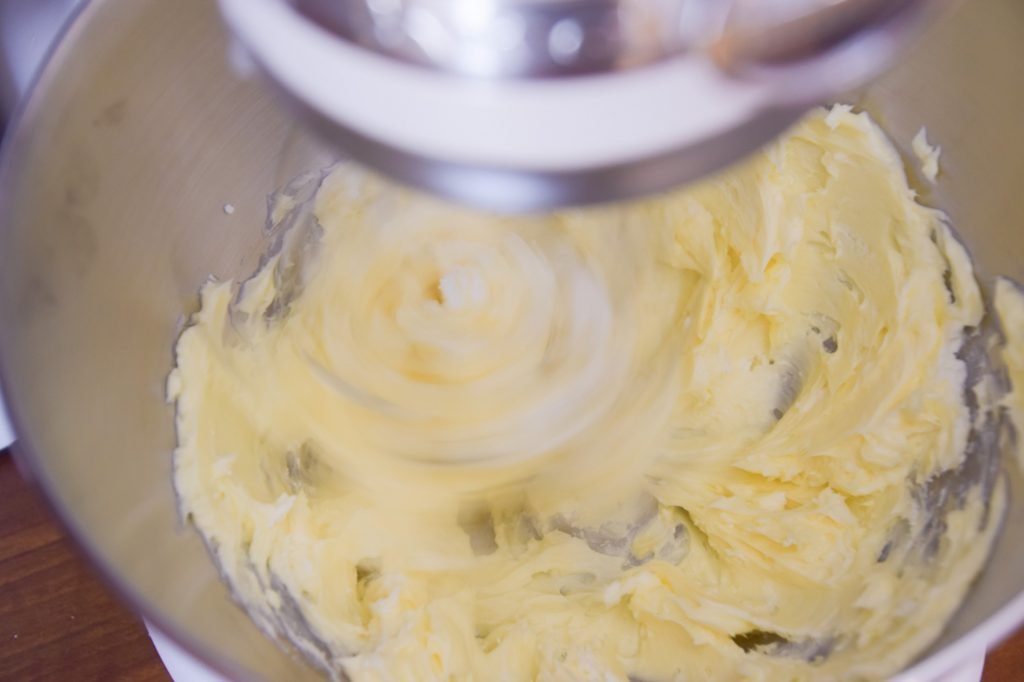 Filling the strawberry & sparkling wine macarons
Pipe a layer of filling into the shell from the top down at a 90-degree angle as shown below. I recommend you try using a small amount of filling first.
Fill only half of the shells as you need to sandwich two shells together later. Carefully press the macarons together and see if you need more filling. If you use too much filling, it will spread when macaron shells are sandwiched together. You can always remove the shell and add more if necessary.
I love to use a Closed Star Piping Tip to make the filling look extra special. You can always use just a basic round tip or no tip at all.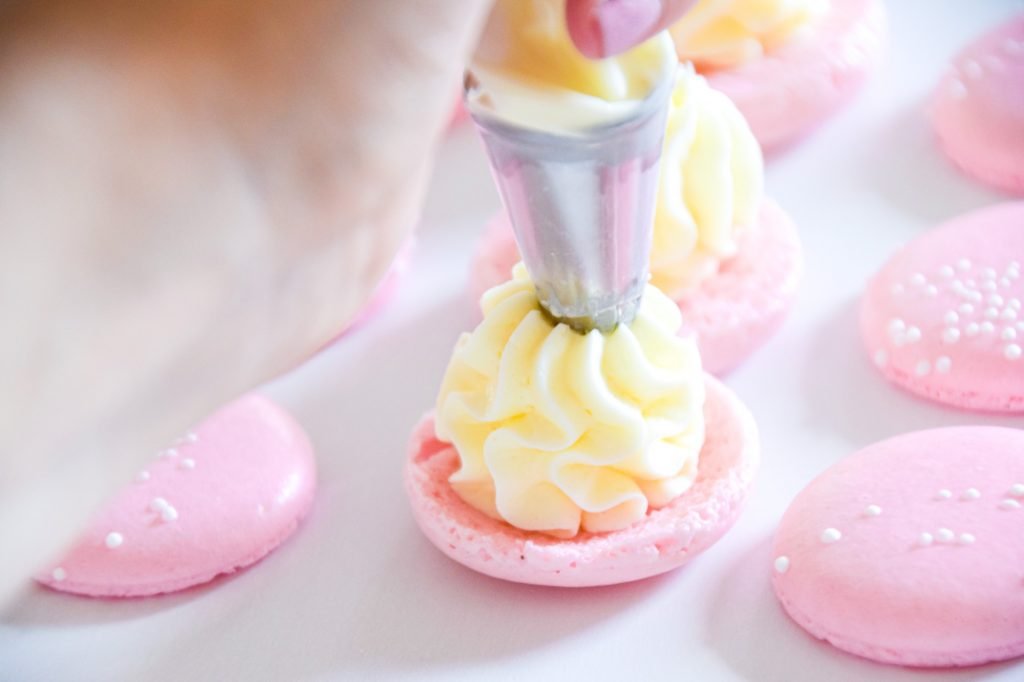 Adding edible luster dust to the macaron shells
Edible luster dust is a powder used to decorate desserts to give them a sparking visual effect. It usually has no taste, meaning it is mainly used for appearance.
Edible luster dust is usually made from titanium dioxide, iron oxide, carmine, sugar, and mica. There are a variety of different types of luster dust and not all of them are edible.
Always make sure you are using food-grade & non-toxic luster dust. Store your edible luster dust in a cool, dark place away from sunlight.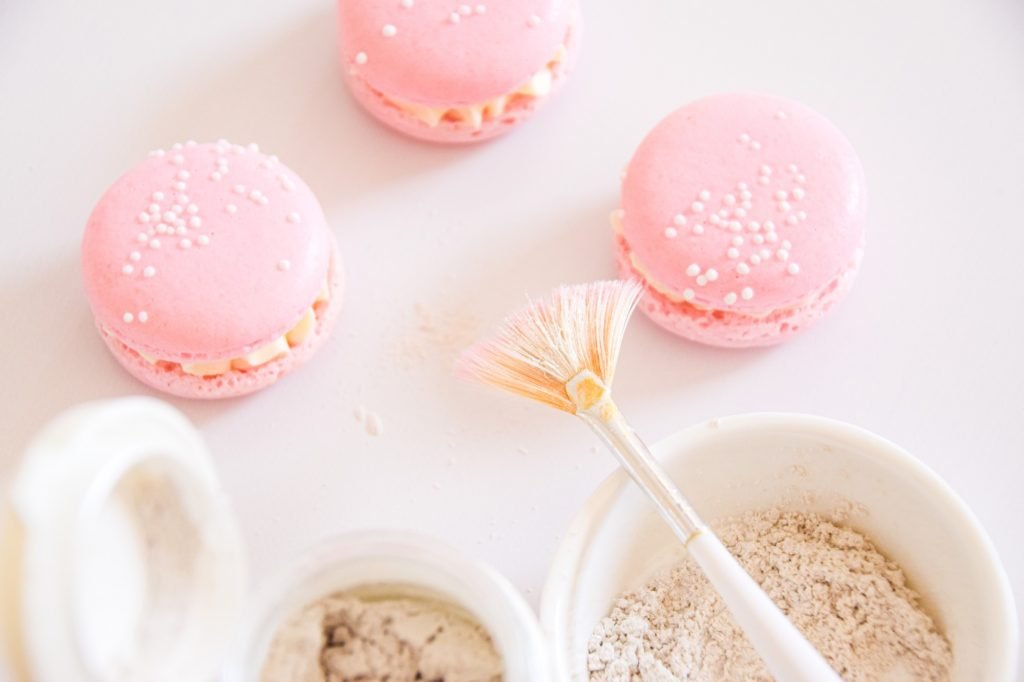 It's super easy to use edible luster dust to make your macarons shine. It'll take your regular colorful macarons and lift them to an even fancier level. It's perfect for adding a little extra something to your strawberry & sparkling wine macarons.
TIP: In case you want to learn more about it, you can take a look at my detailed post about making sparkling macarons with edible luster dust.
You will only need a Brush and edible luster dust. I love to use this Silver Edible Luster Dust for macarons.
A little bowl is also helpful. Pour the edible luster dust into the bowl or use it strictly from the container. Stick the brush into the dust, knock to the corner to get rid of the excess powder and, gently brush all over the macaron shell. Done and dusted, literally!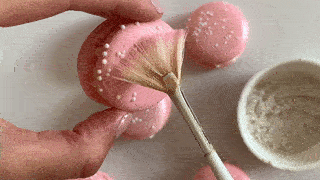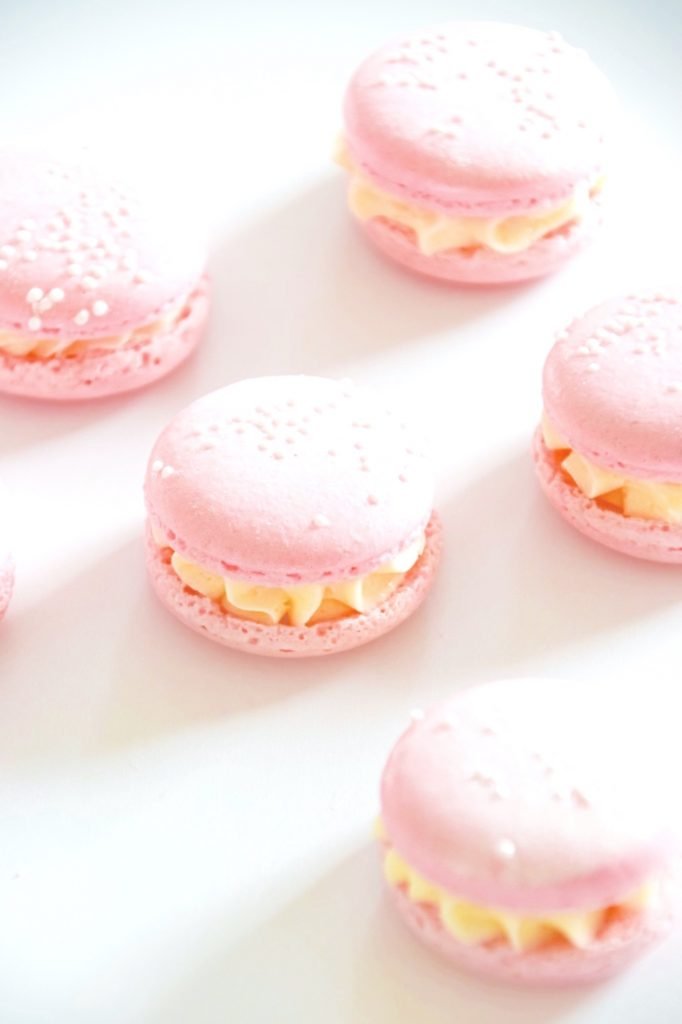 How to store the macarons
Place the macarons into an airtight container and let them mature for 2-24 hours if possible. If you can't wait for that long, feel free to serve them right away – they still taste amazing!
For storing macarons I love to use these BPA-free Plastic Food Storage Containers. They are high quality, freezer-safe, their tight lids keep out moisture and humidity, and also they are super easy to clean as they are dishwasher-safe as well. The lids snap tight to help keep the macarons fresh.
You can prepare macrons a few days before the special occasion. Just remember to keep your macarons in a closed box in the fridge. Macarons taste best on the second and third day so keep that in mind before baking!
Enjoy your macarons!
Belli xx