Easy Tips and Tricks to Make Perfect Macarons
Macarons are one of the most difficult desserts to make. Baking these little cute meringue-based cookies can drive you insane! The more you make them, the more you want to know about them. The more you know about them, the more questions will arise.
Getting to know macarons is a never-ending process because there will always be a "why" or "what if". My process of learning started in 2014 and I am still learning new things every time.
After being active in the macarons world for that long time, I've picked up plenty of tips to share with you. My motto is "never give up" and I know that if you never stop learning, you will eventually find success in baking macarons.
I have written down some of the most important tips to help you be successful at baking macarons. All the points are extremely important so you should not skip any of them.
Clean and dry all the tools
Dry and clean all the tools you are going to use. Make sure you clean all the residue from the spatulas, bowls, mixer, and silicone mats (if you use them).
Your meringue can fail when the mixing bowl or whisk is oily or has any residue on it. If your meringue fails, you can be sure your macarons won't turn out perfect as well.
The same thing goes about drying the tools – water is the enemy of macarons. Even a small drop of water can ruin them. Take your time to clean and dry all the tools before making macarons.
Preparation is the key
In case you are making almond flour yourself, do it whenever you can before the actual baking time. It makes your life a lot easier when you already have it ready when it is time to bake.
You can also make macaron fillings before baking the shells. Most fillings last at least one week. Always keep the fillings in an airtight container or piping bag in the fridge.
The same goes for aging egg whites. It is up to you whether you will do it or not, but it is nice to be prepared.
If you complete these tasks before taking the time to bake, it will be less stressful and you will save yourself a lot of time. After taking care of these things you can focus only on baking.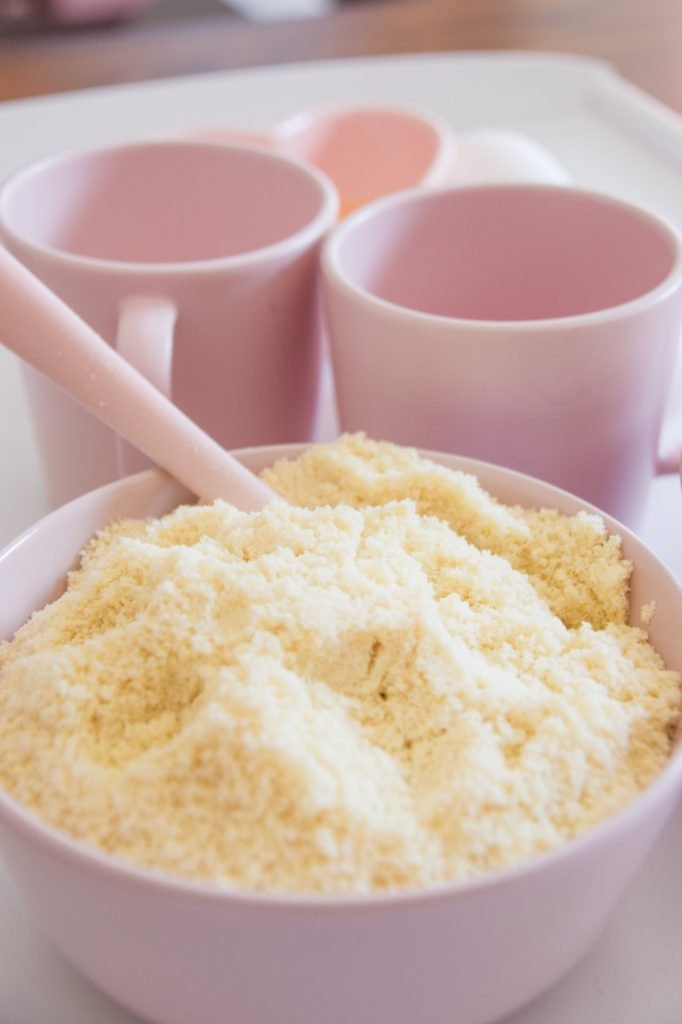 Buy a kitchen scale
Accuracy is the key when making macarons. You can not make them perfect without an accurate working kitchen scale! You can also use the scale for so many other things and it should be a must in any kitchen.
Most of the kitchen scales are affordable and you really need one for baking macarons. I suggest taking a look at this cost-effective kitchen scale as it will be a perfect addition to your kitchen.
Follow the right recipe
One of the most important steps in baking macarons is to choose the right recipe to follow. There are tons of macaron recipes online and it can be very hard to find the right one.
Firstly, figure out what method you would like to use to cut down the search – will it be the French, Italian, or Swiss method? I always recommend people to try Italian Method as the probability of success is the highest with that method.
Once that question is resolved, you should start looking for the recipe. Macarons are tricky to make and there are so many little, but also important steps you just cannot ignore. I recommend choosing a recipe that is long and detailed, all the ingredients are measured strictly and the more progress pictures/videos the recipe has, the better it is to follow.
I have written long and detailed step-by-step blog posts with a lot of progress pictures and videos on baking macarons using my favorite Italian method. This method takes a little more time and effort to do, but I can promise you – it will be worth it!
Do not trust the recipe that says for example "use 3 egg whites", because it is not accurate enough. Use the recipe that has every ingredient written down precisely.
Last but not least, once you have chosen a trustful recipe, follow it! Do not miss any steps even when they may look unimportant as they are probably not.
Take enough time to bake macarons
It is very important to take your time and not to hurry. I highly suggest you do not schedule your macaron attempting for a busy night. It is not the best time to bake when you are home alone with young children or have a guest coming to visit at a specific time. These obligations can make you feel stressed and reduce the chance of success.
Instead of scheduling it for a busy time, do it once you have all the kitchen by yourself and have a lot of time to focus. Making macarons takes quite a lot of time and so does cleaning the mess after baking.
Get to know your oven
It is super important to know, how to handle your oven. Does your oven have any hot spots? Is it heating evenly or more on one side? How old is your oven? Every oven is different, so when one recipe works with your oven, it may not work with another.
Also, it is highly recommended to use an oven thermometer for baking macarons as any other delicate dessert. Every oven has its own thermometer, but you can't be 100% sure it is working correctly.
TIP: Using an oven thermometer is especially important when the oven is old and worn out.
Start with small quantities
Start your macaron journey by baking small quantities at first. Do not make a large number of macarons as there is a chance, you may not be successful at your first attempt.
You'll learn a lot from this experience and will also be able to contemplate what you should change the next time. To avoid wasting a lot of ingredients and your precious time, I highly recommend starting with smaller quantities.
Prefer using a stand mixer
Using a stand mixer will make your life a lot easier. Even though you can use any hand mixer for macarons, it is recommended to use a stand mixer as it whips much stronger and you will have your hands free. For example, you can make the filling for your macarons or clean the kitchen at the same time.
I love my KitchenAid Artisan Stand Mixer and wouldn't change it for anything else. It is top quality and also super easy to use. In addition, it has so beautiful, classy, and timeless appearance that suits every kitchen. There is a reason, why so many people suggest using KitchenAid products.
Use templates
This one is important, especially for beginners! If you don't have silicone mats that already have the templates on them, you really should use a printed template under the silicone mat or parchment paper.
TIP: You don't need to buy it as you can easily make it yourself at home. Just find a template online to print or paint them by yourself on plain paper.
Do not over-mix the batter
The most common mistake beginners make is definitely over-mixing. The batter can get over-mixed sooner than you realize. This is why it is important to take time and be slow. Fold the batter gently and slowly until you achieve the right texture.
The perfect batter flows slowly from the spatula like a ribbon and you should be able to write the number 8 with it without the ribbon breaking.
The folding technique is named macaronage and this is one of the most important things when making macarons. If you want to know more about macaronage, I have written a detailed post about it.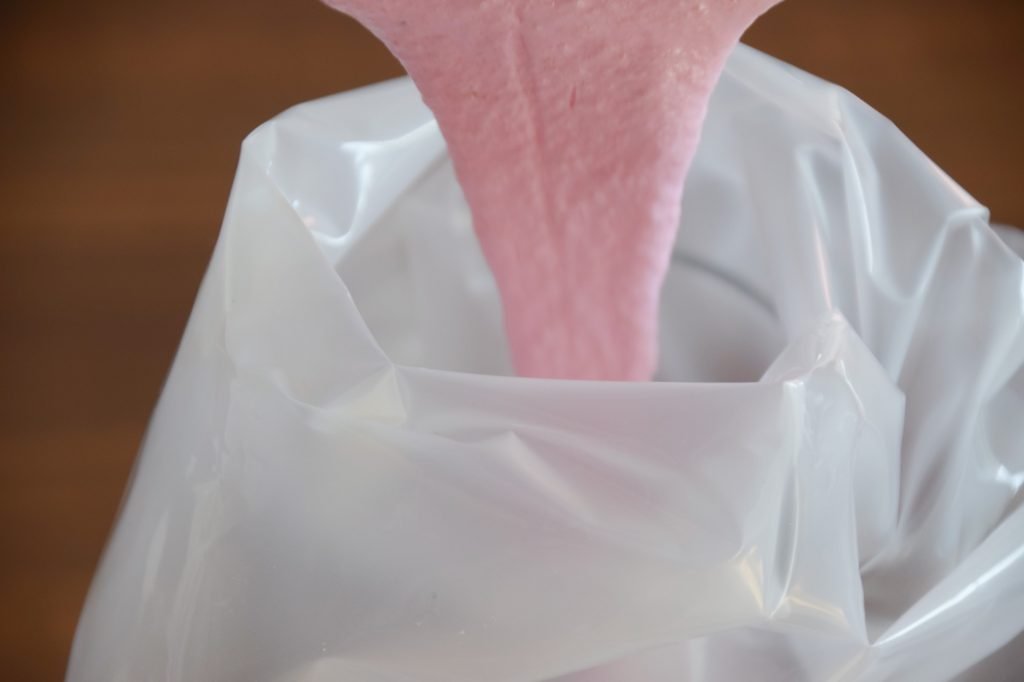 Rest your macarons
Resting your macarons means that you let your macarons dry after the batter is piped out to the parchment paper or silicone mat. In a short period of time, the delicate skin is formed all over the shell and it will start to look matte instead of shiny. When macaron is properly rested, you are able to touch it gently with your finger without ruining it.
Some people rest their macarons and some don't. There is no right way to do it. Every recipe is different and also the macaron-making methods are different. I recommend starting your macaron journey with resting macarons as it will improve your change of success.
Rest them for about 20 minutes at first or until you see them turn a little matte. It should not stick to your finger anymore when touched gently. Once you succeed with your macarons, you can start trying to bake them without resting, too.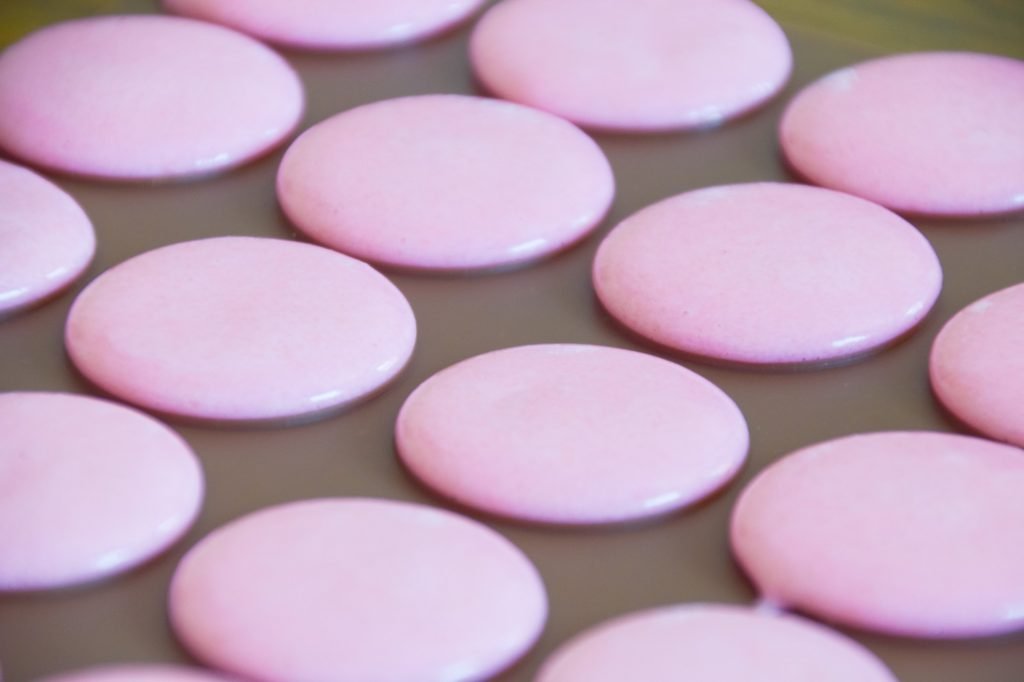 Let the macarons cool down
I know you cannot wait to taste your delicious homemade macarons and want to do it immediately after taking them out of the oven. Once you remove them from the oven, they are still hot and stick to the parchment paper or silicone mat. Do not remove them before they are completely cooled down – trust me, it is worth the wait.
Macaron shells are the most important parts of the macaron. It is very easy for them to collapse or break, so it is best to wait until they have cooled down before removing them from the tray. If they are still hot and soft, they can be really fragile.
There is one thing you need to do immediately after taking the macarons out of the oven – remove the silicone mat or parchment paper with the macarons on it from the hot pan. If you avoid this step, the macarons will continue to bake on the hot pan and will eventually over-bake.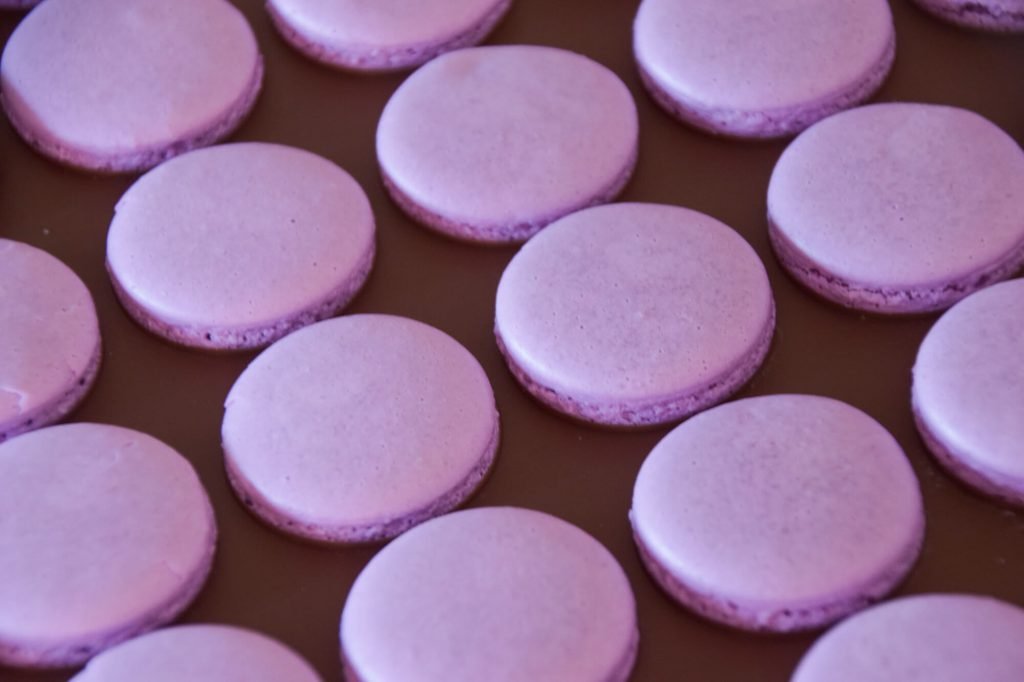 Be positive and don't give up
Yes, kind of cheesy, but this is important too! I am sure you have heard about the law of attraction. You get what you ask for, even if it takes time and practice. If you really want your macarons to be perfect, keep trying!
If you fail once, it is totally okay – many of us fail on our first try. Don't be sad, you have much more experience now and you are definitely more successful next time. Do not give up before you get the results you are happy with!
Enjoy your macarons!
Belli xx