How To Flavor Macaron Shells
There are so many different taste options in the macarons world. Sweet and savory together or separately, sour, spicy and the list continues. As the macaron batter is very delicate, you can't add a lot of flavors to it.
Usually, the macaron bakers make a lot of different macarons from one batter. It is easier and saves a lot of time to make one big amount of batter. In that case, they usually are not adding flavors to the macarons batter.
Most commonly the flavor is added to the macaron by its filling. The selection of fillings is endless. In most cases, the macaron filling is either buttercream, ganache, or jam. Even though it is not very common, you can still add flavors to the macaron shells! You can sprinkle different things on top of the macaron to make them not only taste good but also look unique and extra cute.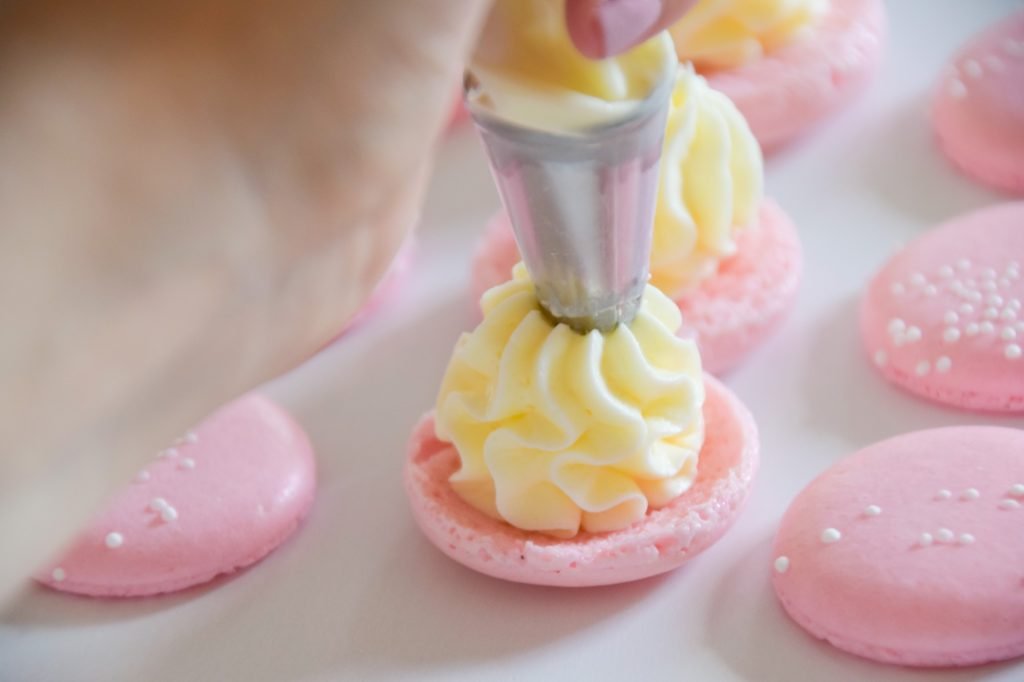 Powdered ingredients
Even though adding flavor to a macaron's shell is not that popular among bakers, you can still do it. There are many different ways to do it. You can add a small number of dry ingredients (a few tablespoons) to the batter without changing its consistency.
For example coffee powder, different almond flours, vanilla bean seeds, and cacao powder. But since you can only add a little amount of these they will not give enough flavor and you should still use the flavoring in the filling.
Chopped and grounded almonds flavor
You can easily use chopped and grounded almonds for your macaron shells. Pistachios are especially good! Peel the pistachios and put them into the food processor.
For example, I use a KitchenAid Food Chopper for this. Blend them and bake the pistachio flour in the oven at 300°F (∼150°C) for about 20 minutes. Let it cool down and then sprinkle them onto the macarons before putting them into the oven.
Crushed Oreo cookies flavor
Scrape down the Oreo cookie filling and place the cookies into the food processor (one of the best tools for this is KitchenAid Food Chopper). Blend them until crushed and sprinkle on the macarons before putting them into the oven – the Oreo dust is sticking to the macarons and won't fall off that way.
You can use the Oreo cookie cream and the remaining cookies to make an Oreo-flavored filling for your macarons.
Crushed gingerbread flavor (Christmas taste)
Crushed gingerbread macarons are perfect for the Christmas season! As gingerbread is the number one Christmas baked good flavor, it's sure to be a hit at your Christmas Eve Party! It also makes the perfect gift for your loved ones as it looks special, but it is also super easy to make.
Just blend the gingerbreads, cover the baked macaron shells top with chocolate, and then sprinkle the gingerbread flour over it – looks good and tastes even better!
Mini marshmallows flavor
Mini marshmallows are perfect for any occasion and make the macarons look playful and give them an extra sweet flavor.
As the marshmallows melt in the oven, keep in mind that they look slightly different once you take them out of the oven. They are not as fluffy and in shape as before, but still, look cute and taste delicious! Especially when you drizzle the chocolate over them!
Also, you can add marshmallows to the baked macarons as well. Use the same technique as the gingerbread ones – melt the chocolate, cover the shell, and stick the mini marshmallows on it. Drizzle the chocolate over the macarons to make them more chocolatey.
In case, you'd like to make your macarons more colorful, use these Rosa Bianchi Mini Marshmallows. For classic white ones, I recommend using Kraft Jet-Puffed Vanilla Flavor Marshmallows. They are super easy to use and store, as they come in a jar together with a little scoop for dosing marshmallows!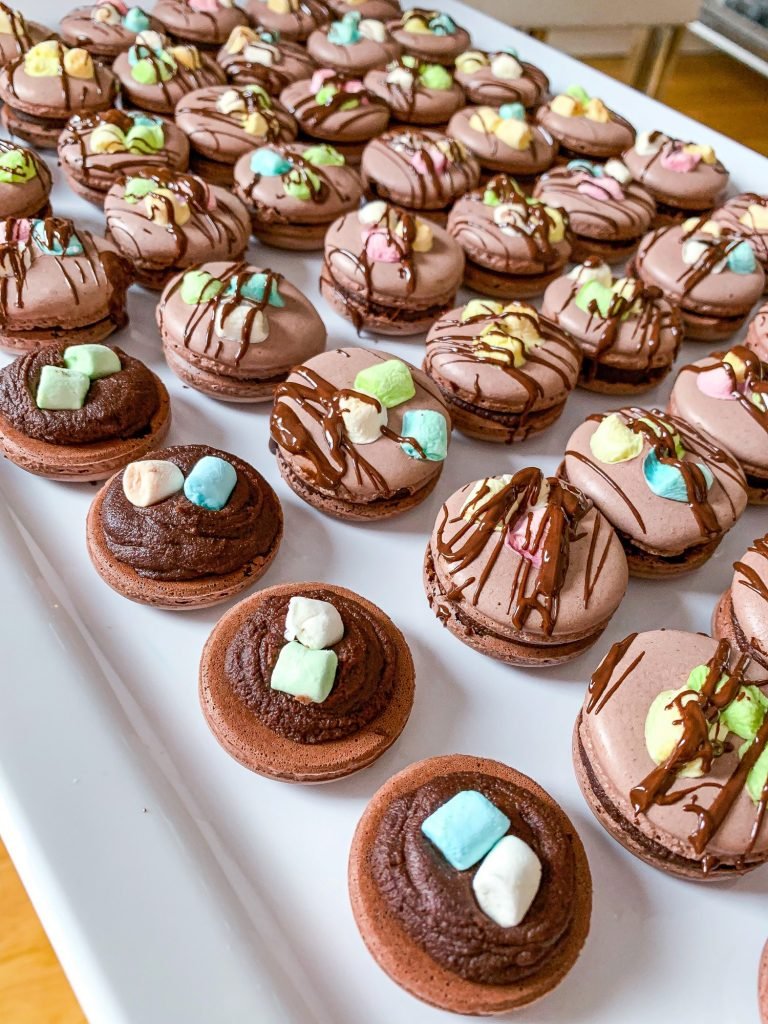 Flavored sprinkles
There are millions of different sprinkles out there in the market. Most of them are used only for a visual effect and they sure are making every dessert cuter! At the same time, most of the sprinkles are tasteless, or if not, in most cases, they just taste like sugar.
Luckily, more and more companies are coming out with edible sprinkles that are flavored! Thanks to that, you can now sprinkle your macarons over with flavored sprinkles which makes making flavored macaron shells super easy. For example, I love using Cotton Candy Flavored Sanding Sugar Sprinkles to get the sweet and yummy cotton candy flavor to my macarons.
Just keep in mind, that all the sprinkles won't handle the high temperatures and are not recommended to be put into the oven, because they would melt and can ruin the macarons. Always check the labels to find out if they are suitable for your use case.
Most of them are totally fine with the high temperature, won't melt, and stick beautifully to your macaron shells. If you are not sure if your sprinkles tolerate the heat, do not risk it – you can always use edible glue or melted chocolate to stick them to the macarons.
Coconut flavor (Pina Colada)
Coconut flakes are giving your macarons a nice crunchy texture and a tropical flavor. They are all-natural and super easy to use – just sprinkle them over the macarons before baking them in the oven.
Using a pineapple filling inside and coconut flakes on top of it will make the macaron taste like a fresh Pina Colada! Perfect dessert for any kind of summer party!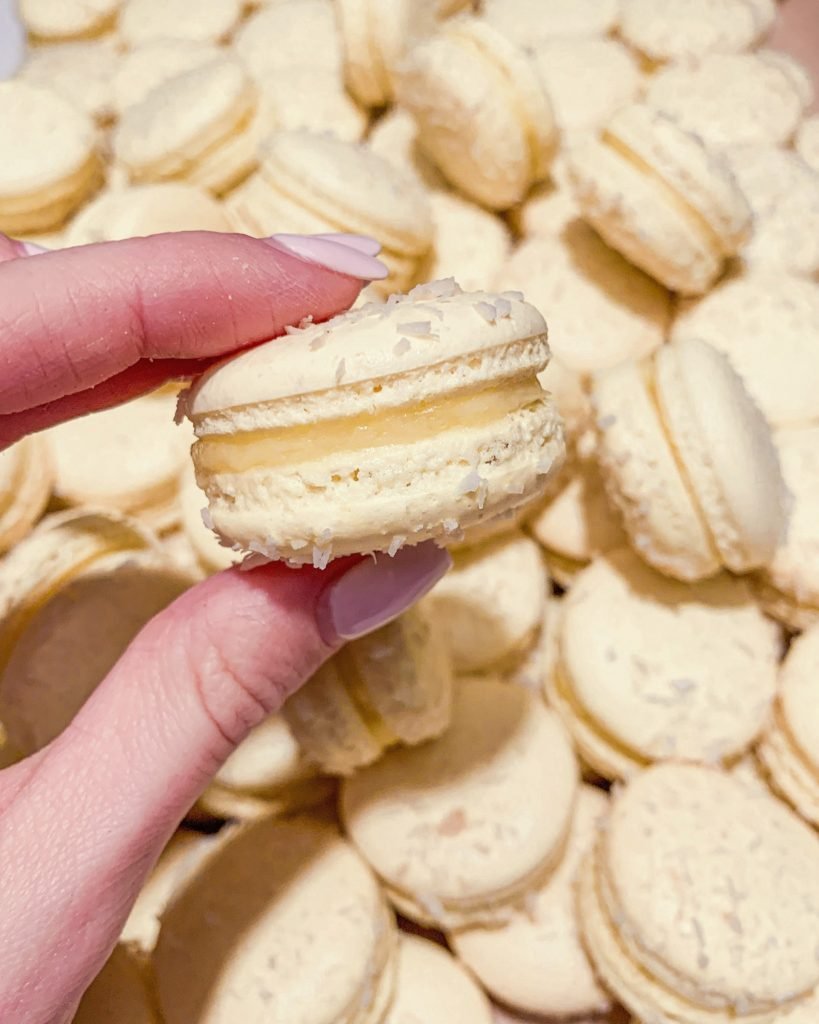 Popcorn flavor
Yes, you heard it right! Popcorn on macaron shells suits you well if you like the sweet and savory flavor together. Slightly salty popcorn pieces on top of macarons work well with a chocolate or caramel filling between the shells.
I love to use salted caramel filling for popcorn macarons! In that case, I like to make a white or beige macaron batter.
Once the macaron batter is piped out to the silicon mat, I just break some popcorn into smaller pieces and sprinkle it over the shells before baking them. By doing that, popcorn pieces will stick to the macaron shell and give them a very unique look.
I hope you found some great ideas from here on how to flavor your macaron shells! It doesn't always have to be the filling that gives all the flavor.
Be creative and think out of the box – only imagination is the limit here! You can always try new things just on one macaron to see how it reacts in the oven and how it tastes. If it works out well, make more next time!
Enjoy your macarons!
Belli xx