Cutest Halloween Pumpkin Macaron
These Halloween pumpkin macarons with spooky faces are so adorable, not to mention the festive orange color and delightful filling. They're a nice way to celebrate the season!
Macarons are also a great alternative to give the kids who come to your house for trick or treat! After giving them the cutest Halloween macarons, I am sure your house becomes the most popular one during the Halloween season.
Tools and ingredients for making pumpkin macaron shells
Tools
Kitchen scale
Sifter
Whisk
Candy thermometer
Mixer (stand or hand mixer)
Small saucepan
Silicone spatula
Two large bowls (glass or stainless steel)
Piping bags
1 small bowl for brown batter
Silicone mat/parchment paper
Toothpicks
Ingredients
4 oz (115 g) Almond flour
4 oz (115 g) Powdered sugar
4 oz (115 g) Granulated sugar
1 oz (30 ml) water
1,7 oz (50 g) Egg whites part 1
1,4 oz (40 g) Egg whites part 2
This amount of batter should produce about 30 macarons (60 shells).
Making a batter for pumpkin macarons
Macarons are a crowd favorite for parties and the holiday season. Even if you're new to macaron making, don't worry! The end result is worth the time and effort you put in with my step-by-step learning curve.
TIP: I have put together a comprehensive recipe for baking perfect homemade macarons with the Italian method. It details every step of the process and should help you increase your success rate! I highly suggest you take the time to read this post thoroughly as well.
For a cute Halloween pumpkin look, I suggest you use vibrant orange color. You can find my personal favorite suggestion above. Most of the batter should be orange, and a few spoons of batter should be dark green.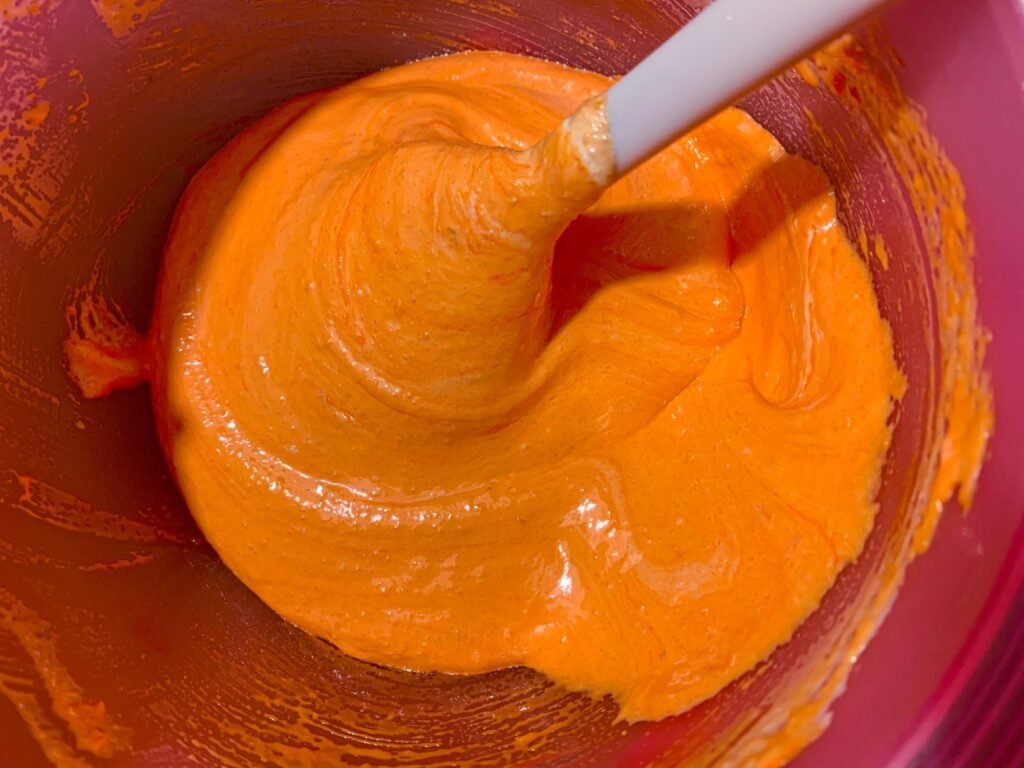 Piping the pumpkin macarons
Pipe the bright orange macaron shells as you usually do – just basic round macarons. Wait for about 10 minutes until they are dried a little. Then take the dark green color batter, cut just a tiny hole into the piping bag, and draw small curls on top of the shells. These are the pumpkin leaves!
Only add green leaves to half the shells so that the upper macarons have green decorations and the bottom shells are plain orange ones.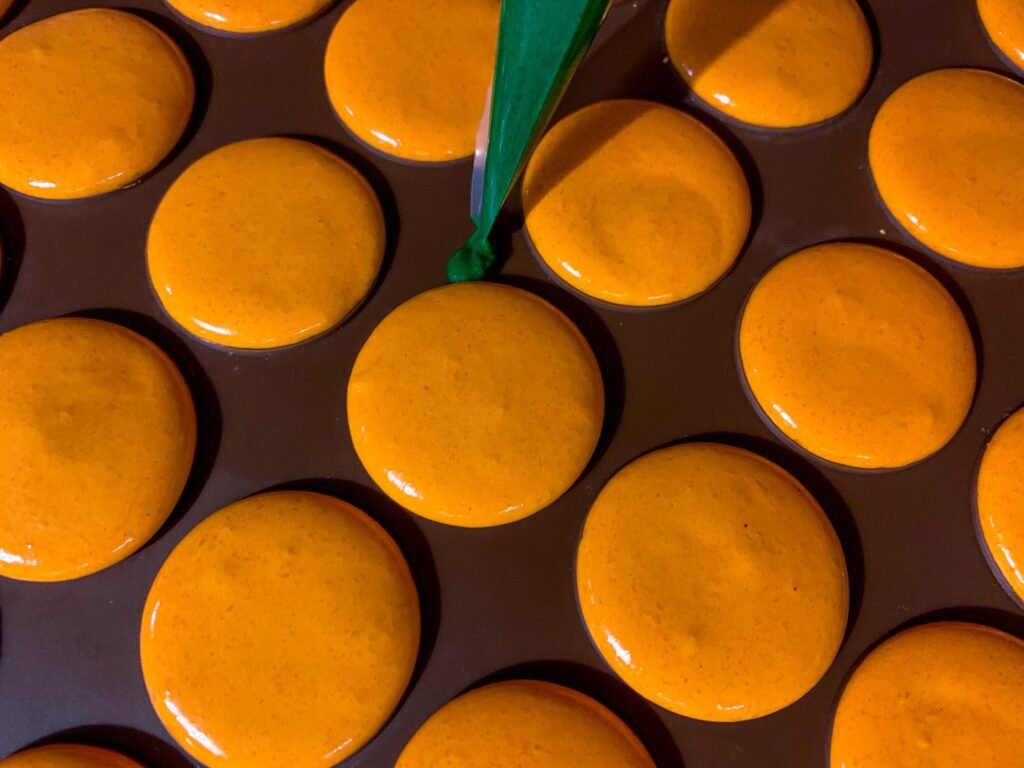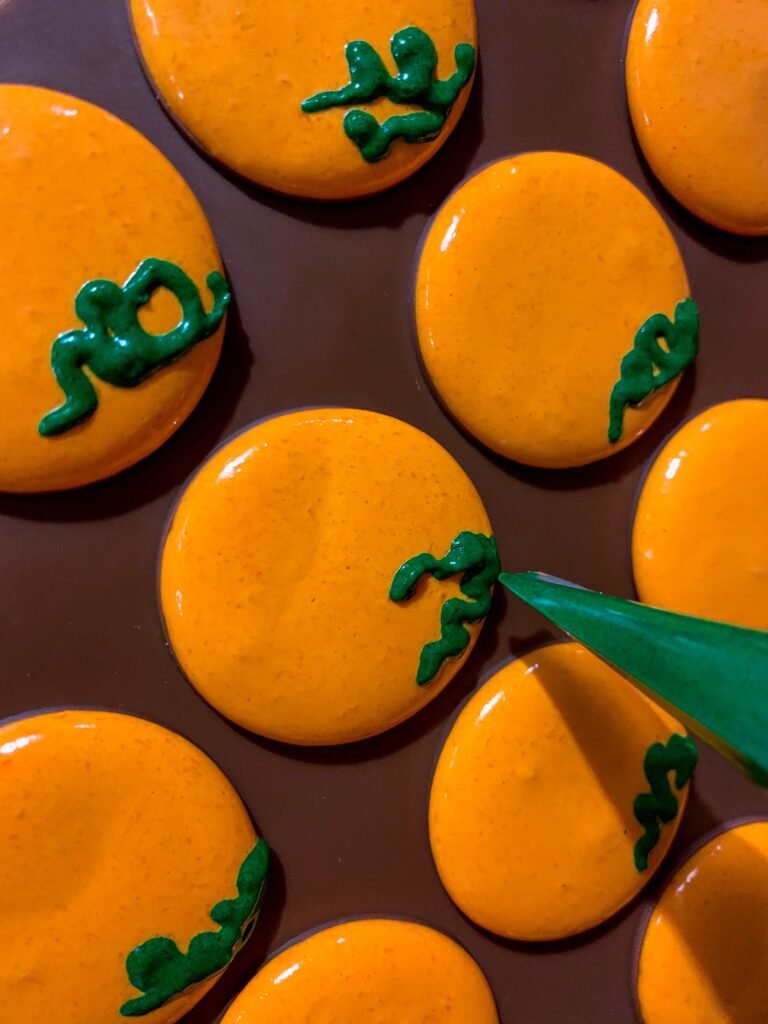 Baking the pumpkin macaron shells
Well done! The hardest part of baking macarons is done now! Let the macarons sit for around 30 minutes before the oven. Then bake them in the middle rack at 240°F (115°C) for 20 minutes. Fingers crossed, that your oven bakes them nicely.
TIP: Sometimes it is hard to get the macarons off the silicone baking mat as they tend to stick to the mat. In that case, I recommend putting the silicone mat with the macarons into the freezer!

Wait around 30 minutes and then take them out. Remove the macarons fast from the silicone mat before they start to warm up. With the help of your fingers, gently press on the bottom of the silicone mat to help the macarons get off.
Pumpkin Spice filling for Halloween macarons
For pumpkin macarons, I love making pumpkin spice-flavored filling. It is just so Halloweeny and I love it. If you don't like the pumpkin spice taste, of course, you can make a different filling. I recommend trying out The Best Salted Caramel Filling. Fits perfectly with these cute orange pumpkins!
Tools
Mixer
Large bowl
Spatula or spoon
Piping bag
Ingredients
7 oz (200 g) butter (room temperature)
3 oz (85 g) cream cheese (room temperature)
7 oz (200 g) powdered sugar
A few spoons of pumpkin spice (my favorite is LorAnn Bakery Emulsion Pumpkin Spice)
How to make pumpkin spice flavored macaron filling
Place 3 oz (85 g) of mascarpone and 7 oz (200 g) of butter into the bowl and start whisking using a mixer. Slowly add 7 oz (200 g) of powdered sugar. Mix on high speed until fluffy and even, it takes around 3 minutes.
Add a few spoons of pumpkin spice and mix until even. Have a taste and add more if needed.
Take the piping bag and place the filling into the bag and set it aside.
Once the macarons are done baking, lay them on the plate, tray, or baking sheet and find a partner to every macaron shell. Partner together the plain orange shell + the shell with the green leaves.
Now it is time to pipe the filling between the shells and glue them together.
How to serve and store pumpkin macarons
Once the macarons are ready, make them more festive by drawing the faces on them. I recommend using a black food coloring pen for that.
For serving the macarons, I love using Halloween-themed plates and decorations. I will leave the links to my all-time favorite Halloween decorations here so it is easier for you to find them:
A great idea is to place black tulle fabric untidy over the regular tablecloth and add some Christmas lights to make the table look cozy. I have found a great tulle fabric that has a little cute black polka dots on it. Fits perfectly! Or just use the plain tulle fabric, found here.
Keep the macarons in the fridge, place them in an airtight container and let them mature for 2-24 hours if possible. If you can't wait for that long, feel free to serve them right away – they still taste amazing!
Enjoy your macarons!
Belli xx