Everything About Salted Caramel
Salted caramel has only been a thing for a few years now. I guess I tasted my first salty caramel candy about 8 years ago. I was quite confused to see the word "salty" on the box of caramel candies.
With a huge amount of skepticism, I gave this combination a try and have been in love with it ever since. Nowadays, it's hard to imagine being without it. The thing is, that mixture of salt and sweet caramel seems like it shouldn't really work but it does work perfectly. This is why it is so popular all over the world.
Being such a fan of salted caramel, I have learned a lot about that heavenly dessert and will answer the most asked questions about salted caramel. Also, I am going to share my all-time favorite salted caramel recipes, too!
What is salted caramel sauce?
Salted caramel sauce is a sweet sauce with a hint of salty taste that can be added to any dessert. It's a sweet yet salty topping for cakes, muffins, and other desserts. I can't think of any dessert that doesn't taste delicious with a hint of salt from this sauce added.
Salted caramel combines two of the primary tastes that our taste buds are able to pick up – sweet and salty. Salt acts as an enhancer of flavor, so that's why it makes caramel taste even better.
Salted caramel sauce is typically made of sugar, butter, heavy cream, and salt. The texture of the sauce can be altered depending on what is being served. The key to a perfect sauce is to balance the thickness with the richness. A blander sauce can be made richer by adding a fatty ingredient, in this case, it's the butter. A thicker sauce can be made thinner by adding heavy cream.
It is important to remember that it has to be in balance – too much salt ruins the salted caramel. If making it at home, keep that in mind while adding the salt!
How do you make caramel sauce firmer?
Salted caramel sauce is the perfect topping for any dessert. The texture of the sauce can be altered depending on what is being served.
For some desserts, it is better when the caramel sauce is runnier (for example, the sauce for churros), and some desserts need it to be thicker (for example, the filling for the macarons).
Steps to make the salted caramel sauce firmer:
Simmer it on medium heat for 5-10 minutes to thicken it (the caramel will not continue to darken and that is completely fine). Keep in mind that the caramel will thicken significantly once cooled down so placing it in the fridge helps greatly as well
Once you make caramel, it will harden as it cools. There is also a great tip to harden it faster – use a very cold heavy cream
Most caramel sauces are made with sugar, butter, heavy cream, and a little salt. If you increase the amount of sugar in the recipe you'll end up with a thicker caramel. Try increasing the sugar by about 1/3. You can also use less heavy cream than said in the recipe to get the firmer caramel
How do you make salted caramel sauce runny?
Some desserts are good to enjoy with runny caramel sauce. For example, the sweets you can dip in the sauce (like churros or apples) or the ones you want to drizzle over with it (like pancakes, cupcakes, etc.). Making your caramel runnier is super easy and everyone can easily do that.
Steps to make salted caramel sauce runnier:
Add more heavy cream to the mixture! You can also add corn syrup or lemon juice to the caramel – it makes it runnier and also prevent them from crystallizing!
If you run out of cream, you can just warm the caramel up in a microwave. Do it by 20 seconds at a time, then mix it and repeat as many times as you need. Once the caramel gets warmer, it will also get runnier. But if it starts to cool down again, it will thicken up
When you know you need the caramel sauce for drizzling or for dipping, I recommend you to use more heavy cream right when making the sauce. Just a few tablespoons more cream works great! By doing this you can be sure the sauce will be nicely runny
Why is my caramel sauce separating?
A caramel can split if there's fat in the caramel (e.g. from butter or cream). Often, a split caramel can be saved by gently reheating the caramel and stirring continuously. Constantly stirring is definitely the key here!
Can you overcook the caramel sauce?
Yes, you can overcook the caramel sauce. Caramel stops cooking as soon as you add the butter and cream to the pan. Do not wait too long to do it as the longer you cook it, the harder the caramel gets and changes are that you can overcook it.
When the caramel is heated too much, it will start to harden and can get burnt. It will lose its moisture and becomes rubbery.
Can you fix grainy caramel sauce?
Yes, in most cases you can fix grainy caramel! If your caramel seizes up, just add more heavy cream and reheat the saucepan again. Don't forget to stir continuously. Try to avoid the crystallization that causes grainy caramel as it is easy to do.
Can I make salted caramel sauce without a candy thermometer?
Yes, you can make the perfect salted caramel sauce without using a candy thermometer. I personally never use one for making it.
Ways to eat salted caramel
There are so many fun and delicious ways to eat salted caramel. Here is the list of the most popular ones:
Macarons
Use the salted caramel sauce as a macaron filling. Sweet and delightful macaron shells and rich salted caramel sauce really are the best combination ever! I can promise you, that your macarons will be gone from the serving plate faster than you can imagine.
To use salted caramel filling for macarons, you need to make the sauce as thick as possible for it to stand nicely between the macaron shells. The most foolproof method to make it firmer is to increase the amount of sugar in the recipe – you will end up with thicker caramel sauce that is great for filling the macarons!
Using a very cold heavy cream helps it to get thicker, too. Also, keep in mind that the salted caramel sauce gets a lot thicker once cooled down!
Ice cream
Just imagine soft and cold ice cream that is drizzled over with a homemade golden-colored salted caramel sauce! It will simply taste amazing and is an easy dessert to make for unexpected quests!
That's why I am always keeping a can of vanilla ice cream and a little jar of homemade salted caramel sauce in the freezer. I can quickly serve them if needed and even in an unexpected situation make you look prepared.
Cupcakes
Cave the little hole in the cupcake and place the sauce in the cupcake before frosting! It will be a nice surprise when biting the cupcake. You can also drizzle the sauce over the frosting to make it look (and taste) extra yummy!
Pancakes
Take your simple homely pancakes to the next level! Drizzle your pancakes over with that homemade heavenly sauce, add a large scoop of ice cream and throw a few fresh berries on top of them. Your typical Sunday morning pancakes will be at restaurant level for sure!
Pies
Salted caramel sauce fits perfectly with apples and that's why it would be the perfect addition to the apple pie. I would just drizzle it over once baked and then serve it with ice cream – sounds absolutely delicious.
Churros
Churros and salted caramel sauce is a very popular combo for obvious reasons – it is just so good! For churros, it is best when your salted caramel sauce is on the runnier side. It is a lot easier to dip the chunky churros into the runny caramel sauce.
To make your caramel sauce runnier, warm it up and add a little more heavy cream to it. You can also go back a few paragraphs and read more about it.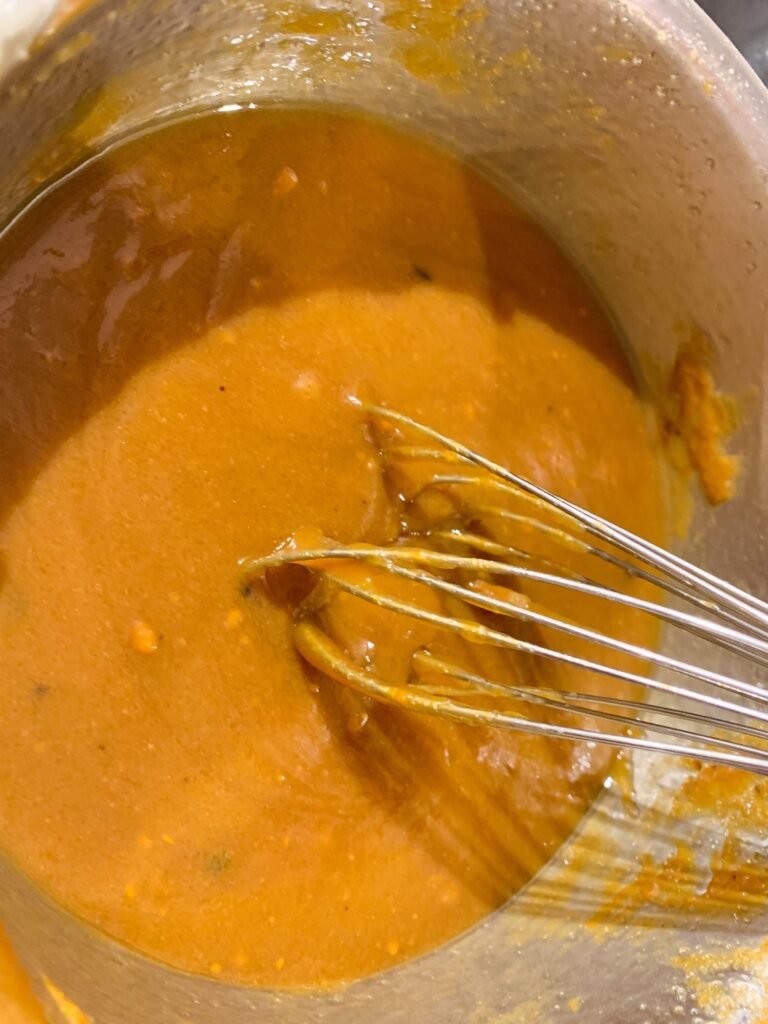 How to store leftover caramel sauce?
The best way to store leftover caramel sauce is in the freezer. It can be stored in the freezer for well up to 3 months or in some cases even more. Always keep it in an airtight jar or container to make it last longer.
Unless you don't need it to last that long, keeping it in the fridge is also a good choice. Just remember, that in that case, it will last for around 2 weeks.
For storing Salted Caramel Sauce and Lemon Curd, I love using these Mason Jars. They are great in size and perfect for jams and sauces. They also look cute and I see that these would be a great gift idea as well! Just pour the sauce or curd into the jar, glue a Satin Bow to the lid, put on a "Homemade" Sticker and you have the perfect Christmas gift for your loved ones!
TIP: You can split it up into different size containers or put it into an ice cube tray to quickly get the right amount of sauce in the future for quick use.
Can I freeze the salted caramel sauce?
Yes, you can freeze caramel sauce and it is a very handy thing to do. You can store them in the freezer for up to 3 months. The key is to store it properly.
Freezing Caramel Sauce is perfect when you don't use all of it at once. Also, wouldn't it be great to keep a little bit of salted caramel in the freezer all the time? Perfect for hosting unexpected quests with some ice cream and homemade salted caramel sauce, right?
Tips for freezing the salted caramel sauce
If you are not in hurry, defrost the container overnight to let it melt slowly
Let the caramel sauce cool down before putting it into the freezer
Label the container so you can remember what's in the container to know how long you can use it (or when to discard it) and keep track of your inventory
How long does the salted caramel sauce last in the freezer?
Salted caramel lasts up to 3 months in the freezer. Place it in the Freezer-Safe Airtight Container and warm it up in the microwave once you need it!
Keep in mind that if you warm it up, you need to use it all. Do not put it back in the freezer again. Also, be sure that the container you are using is microwave safe.
How long does the salted caramel sauce last in the fridge?
Salted caramel lasts up to 2 weeks in the fridge. Yes, it lasts quite a long time, but I recommend using it in the first 7 days as it is better then! If you want to store it for a longer period, it is better to freeze it.
If storing it in the fridge – place the caramel sauce in a glass jar or plastic box. Make sure to use an airtight lid to avoid any air coming in.
The most common mistakes while making salted caramel
Using a thin pot – thin pots often heat unevenly. Some parts can be burned before the others are even melted. The best is to use a heavy-bottomed stainless steel pot.
Using the wrong sugar – make sure you are using the basic white granulated sugar.
Fearing the dark color – the darker the caramel, the richer the taste. But be careful not to burn it.
Stirring the sugar – if sugar splashes up onto the slides of the pan, do not scrape it back to the mixture as it can ruin it! Let it be there or try to wipe it down with a pastry brush.
Cooking with a dirty pot – make sure the pot you are using is super clean. You don't want any leftovers to ruin your caramel sauce.
How to store caramel sauce?
Caramel sauce should be stored in an airtight container such as a jar or a glass microwave-safe bowl with an airtight lid. To store it, pour it into the glass jar or plastic box. You can also use food film to cover the jars or boxes.
Salted caramel sauce can be left out at room temperature for a few days without any problems, but as it contains dairy, I highly recommend keeping it in the fridge. Doing this also keeps your caramel sauce fresher for longer.
Simply warm the caramel sauce in the microwave to make it smooth again.
TIP: You can just put the caramel sauce into a Piping Bag – that's what I am doing in most cases as I am usually making salted caramel sauce for macaron's filling. That works great if you don't need to store it for a long period of time.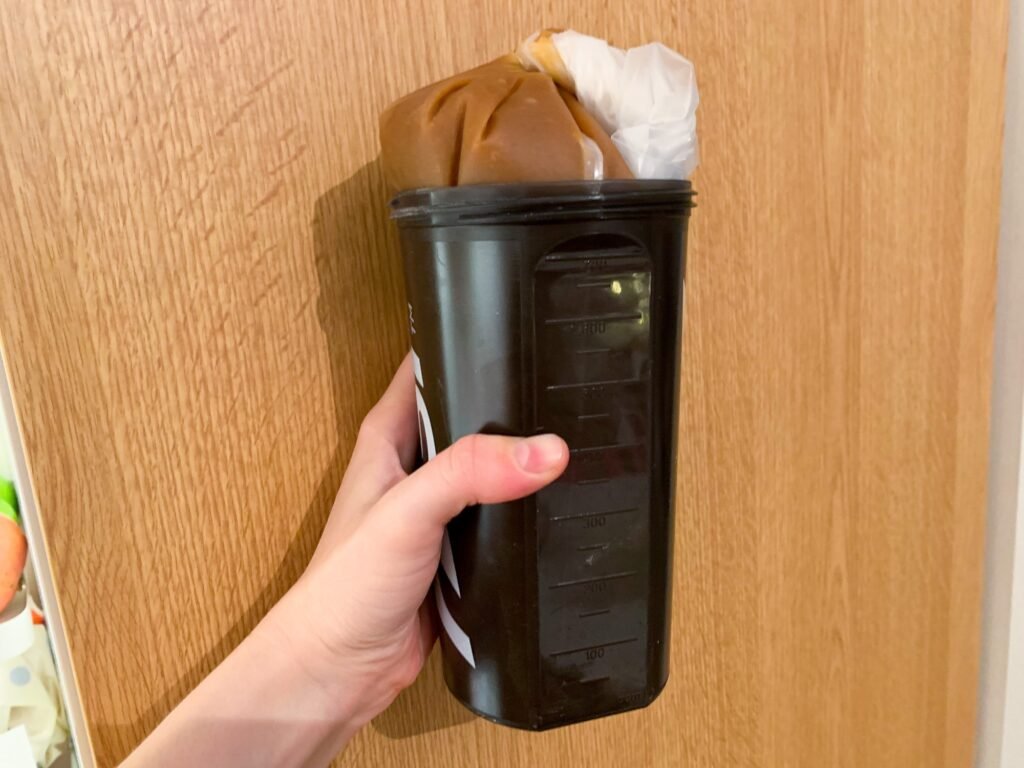 What is the difference between caramel and salted caramel?
The difference between regular caramel and salted caramel is the addition of salt in the latter. Other than that, there are usually no differences in the ingredients of the two types of caramel. The salt balances out the sweetness, making it more palatable for some people.
Salted caramel sauce as macaron's filling
There are a lot of different salted caramel sauce recipes out there. I personally like recipes, that are easy to follow and fast to execute.
All those years of baking have led me to two recipes that I am making at least once a week. One of them is better for filling the macarons – it is thick, super delicious, and easy to make. I actually like to leave it a little bit grainy – I don't wait for the sugar to dissolve completely to have the little sugar crunch once biting the macaron.
My salted caramel macarons have been the best-sellers for over 5 years now so I think I am not the only one who likes little sugar pieces in there. If you do not like it, just cook the sauce as long as the sugar is completely dissolved!
TIP: I have written a whole post about making caramel sauce filling for macarons and I highly suggest you take a look at this. It goes into detail about every aspect and can save you a lot of your valuable time.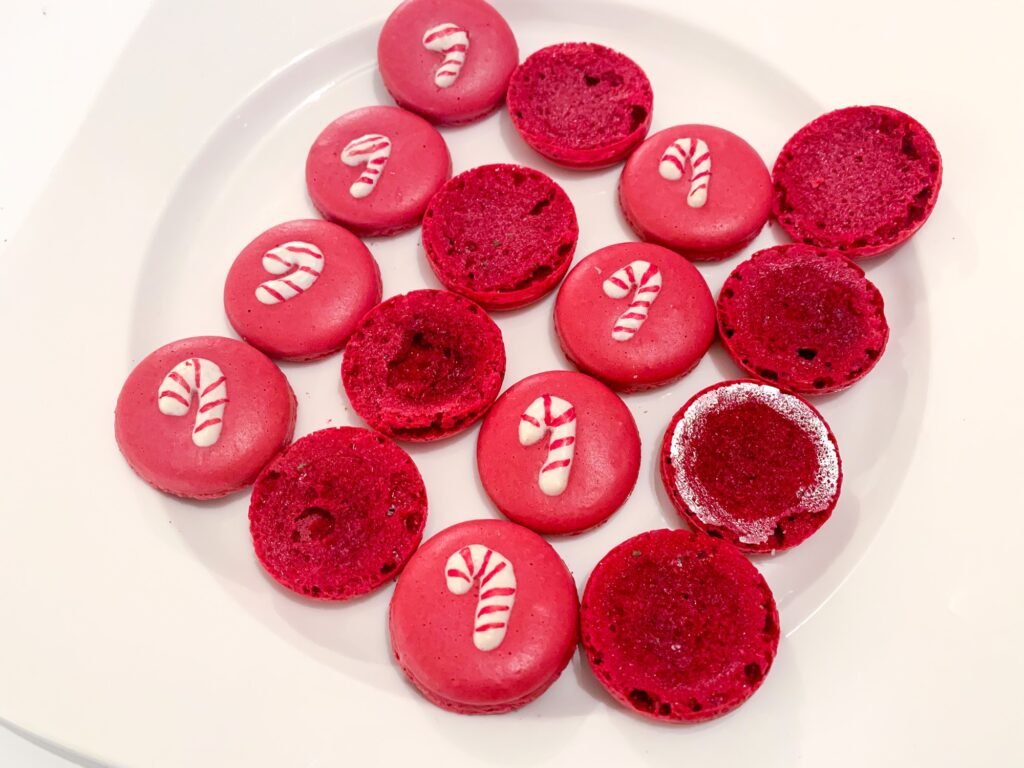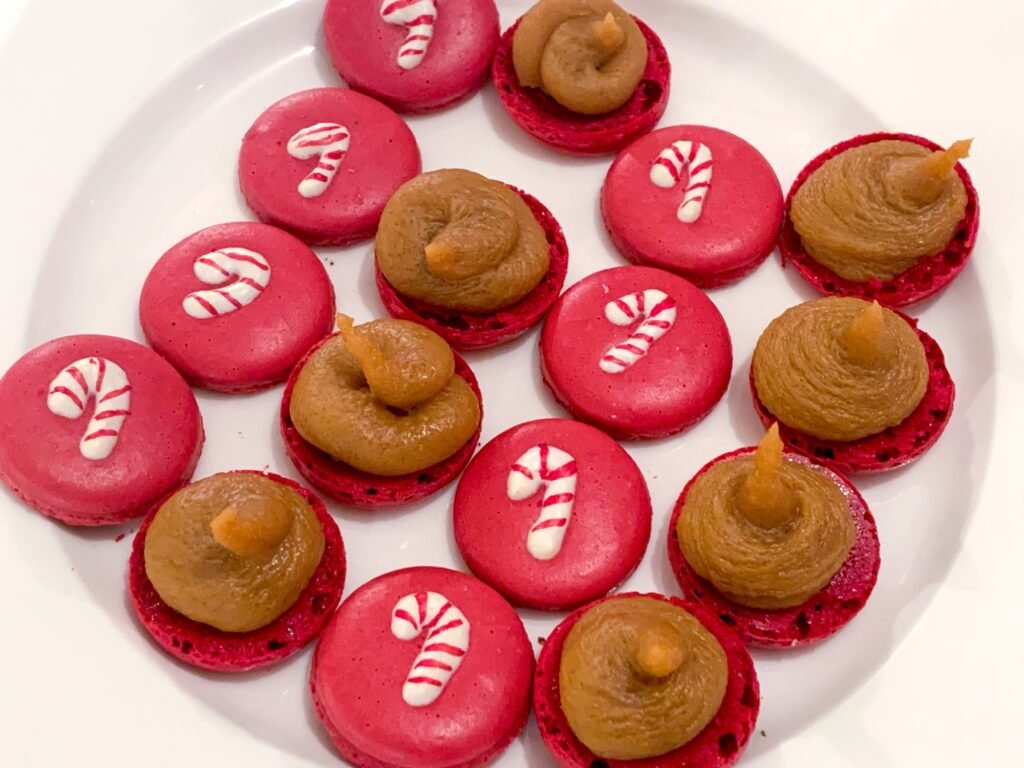 Salted caramel sauce for drizzling and dipping
For other desserts that don't need the sauce to be that thick – I really like to make the other recipe. It is a bit different from the first one as it contains heavy cream and it takes a little bit longer to make. Both of them are super tasty and I hardly recommend you to try them out!
This recipe is perfect for churro dip, for drizzling over the ice cream, pies, cakes, and other desserts.
TIP: I have put together a complete recipe on how to make salted caramel sauce for drizzling and dipping. It covers all the information you need to make the perfect caramel sauce at home with easy-to-follow steps.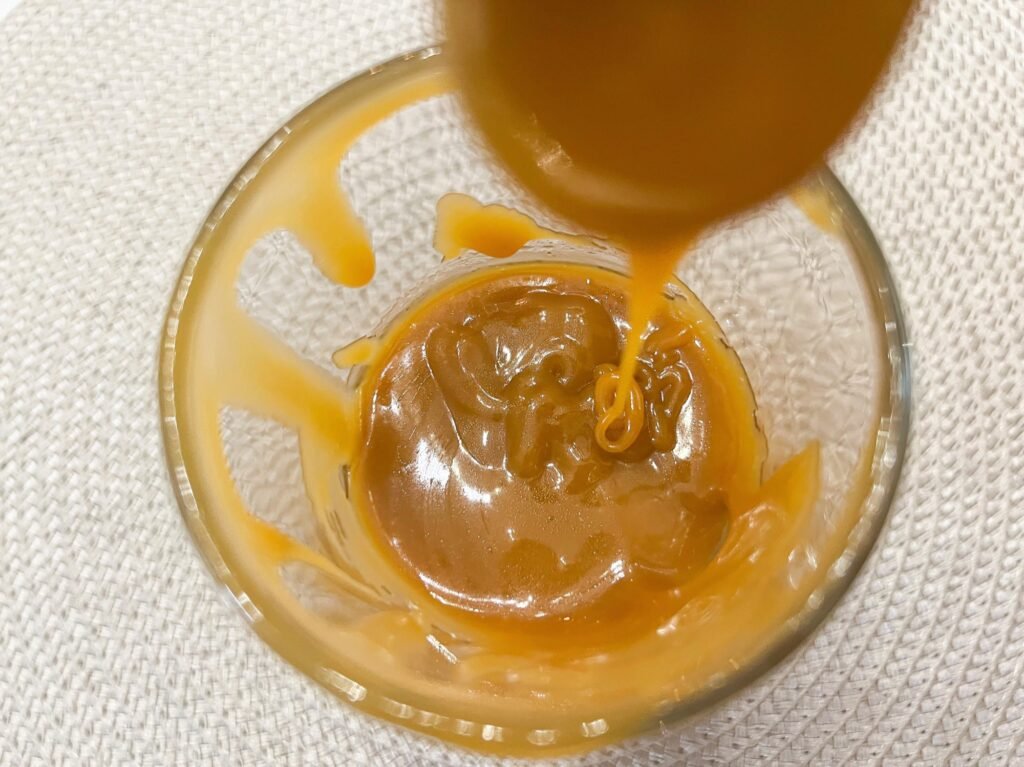 Both of the recipes are super tasty and really recommend you to try them out!
Enjoy your macarons!
Belli xx